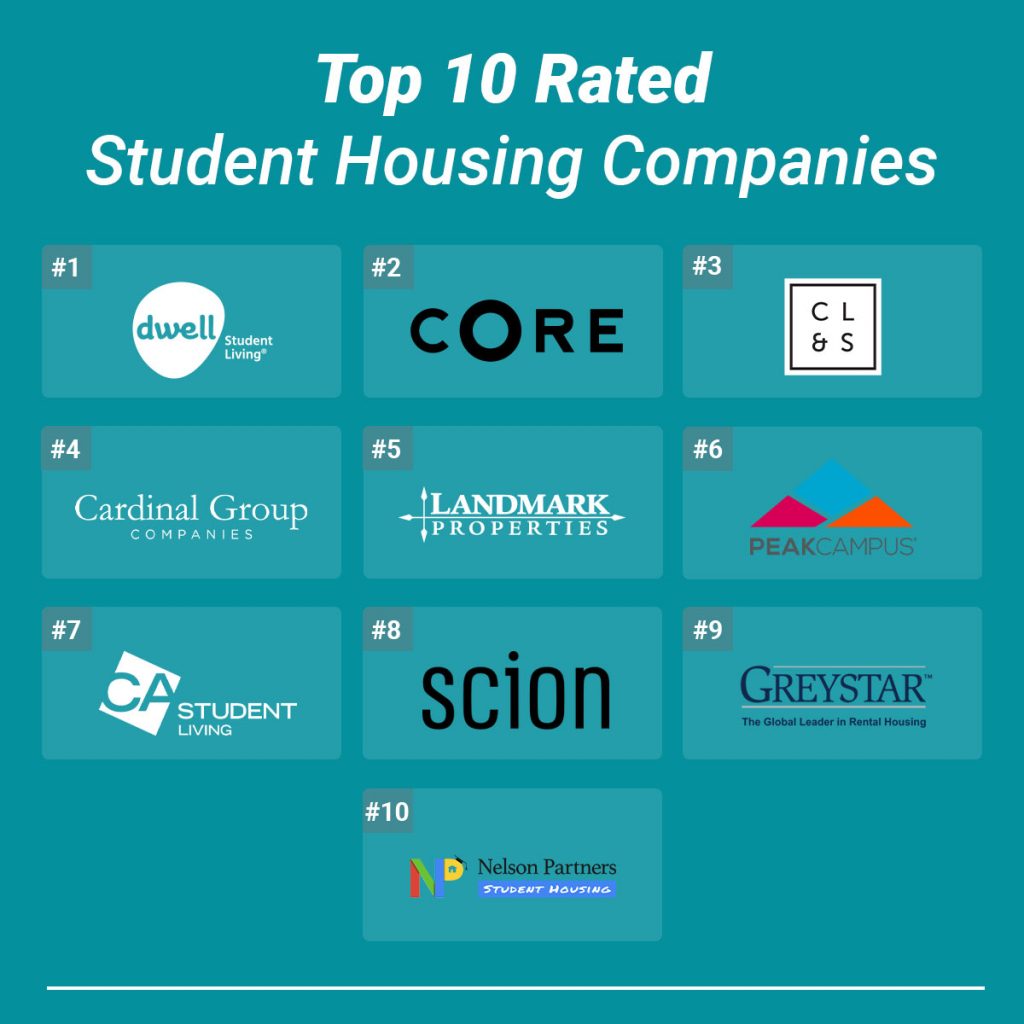 Off-campus student housing isn't quite like it used to be, and these top ten companies on our list are prime examples of how this growing industry is taking off-campus student living to a whole new level. Hundreds of luxurious off-campus student oases have been popping up at college campuses nationwide over the years. These extravagant student abodes often draw in their residents with impressive amenities, like high-end furnished apartments with utilities, rooftop resort-style pools, cyber study lounges equipped with Macbooks, indoor and outdoor sports courts, movie theaters, and beyond!
With so many off-campus apartment options available, and more being built each year, amenities aren't always enough to keep students around. It ultimately comes down to the property management team and the students' overall living experience that will determine if they'll resign and refer their peers. In today's fashion, if a student (or parent) loved or hated their living situation, they'll let the whole world know on the Internet.
So, how did we come up with our list of top corporate companies? We started off by compiling a list of 20 of the biggest names in the student housing industry. We took these companies' portfolios (in the USA only) and sifted through thousands upon thousands of online reviews from students and parents over the past year to calculate the average rating for each property, then combined those to get an average rating for each company. Impressively, all twenty companies scored an average of or over 3.2 out of 5. These scores really show the hard work these companies put into making students' lives a success off-campus, which in turn impacts their success on campus.
The New York Times calculated that nearly 87% of University students live off-campus while attending college. For students, deciding where to live during their college years is both an exciting, yet burdensome task to take on. If you're new to renting, you may not have thought about all that goes into choosing a place, and the search can quickly become overwhelming. Each year, thousands of students at over 125 campuses nationwide use Collegepads.com to help them find off-campus housing near their university and provide tips to renters.


1. Dwell Student Living (Score 4.3)
At the top of our list, Dwell Student Living takes the number one spot after only entering the US market in 2017! Dwell's portfolio spans over 5 countries, and while they might have a smaller portfolio here in the United States compared to some of the contenders on the list when it comes to being reviewed by their student residents, the old adage reigns true— sometimes it really is "quality over quantity."

2. Core Spaces (Score 4.3)
"We put everything into our work and it shows." *drops the mic.* A lot of companies like to say they are the best or make a lot of untrue claims about themselves. After reading the thousands of reviews for Core Spaces' properties, we can attest that their team's hard work really does pay off, and everyone seems to have taken notice. Core Spaces strives to offer the best-in-class for off-campus student housing, and they do just that!

3. Campus Life & Style (Score 4.2)
Founders of Campus Life & Style, Elliot and Issac, attribute their success to their attentive and hardworking staff. CLS has some of the most beautiful off-campus communities, but they recognize that even with the best living options available, service needs to be above and beyond for their residents. Catering to both the needs and growth of the staff and to the resident makes for a cohesive and enjoyable living community!


4. Cardinal Group Companies (Score 4.1)
With an off-campus portfolio of over 100 properties—totaling over 28,000 units and 50,000 beds—it's safe to say Cardinal Group has figured out what the students want and how to keep them coming back year after year! Not only do they have top of the line apartments with some of the hottest amenities available, they also have over 1,500 team members ready to help and assist students to make their living experience one to never forget!

5. Landmark Properties (Score 3.8)
"The Nation's Top Developer of Student Housing," "The Nation's Top Contractor of Student Housing," and our list of "Top Management Companies" are just some of the many headlines and "best of" lists you'll find Landmark Properties has landed on over the past few years. Historically, Landmark Properties has an average company-wide occupancy rate of 97%. That number alone, along with these raving student reviews, speaks volumes on how great their company reputation is!

6. Peak Campus (Score 3.7)
As one of the nation's largest privately-owned student housing companies, Peak Campus has a broad off-campus student portfolio of just under 100 properties near college markets across the country. As a top management company on our list, Peak Campus consistently delivers high-end property management service to keep up with their motto of "At Peak Campus, Just Good Isn't Peak Enough. "

7. CA Student Living (Score 3.7)
Think of CA Student Living as resort-style living. At their many off-campus locations around the country, the team keeps a common goal of providing 5-star service to their residents and maintaining an environment that is balanced for a student's life. The CA communities give students space where they can be inspired, productive, and make lasting memories during their college years.

8. The Scion Group (Score 3.7)
The Scion Group has been in the game since 1999 and is one of the nation's largest owners and operators in the student housing business. With over 20 years of experience, The Scion Group has perfected its all-star service and offers some of the most sought after communities. They asked thousands of students nationwide what they wanted in terms of housing, and The Scion Group delivered with new updates to give them the experience they felt they deserved.

9. Greystar (Score 3.6)
When Bob Faith founded Greystar back in 1993, he did so with the goal of delivering world-class service to his residents. Fast forward 27 years and Greystar is continuing to do just that. Their company places a focus on people (whether staff or resident) and relationships, and their ranking and reviews really prove that. Greystar offers some of the best off-campus apartments across the nation, and as time and technology advance, they attribute their success over the years to their team.

10. Nelson Partners Student Housing (Score 3.6)
Nelson Partners looks to the future and keeps long-term goals in mind. Whether that's growing their highly-rated staff or developing and remodeling properties, retaining residents, and maintaining long-term tenant satisfaction is their main priority. Nelson Partners is determined and dedicated to providing some of the best off-campus living environments at each of their communities across the nation.