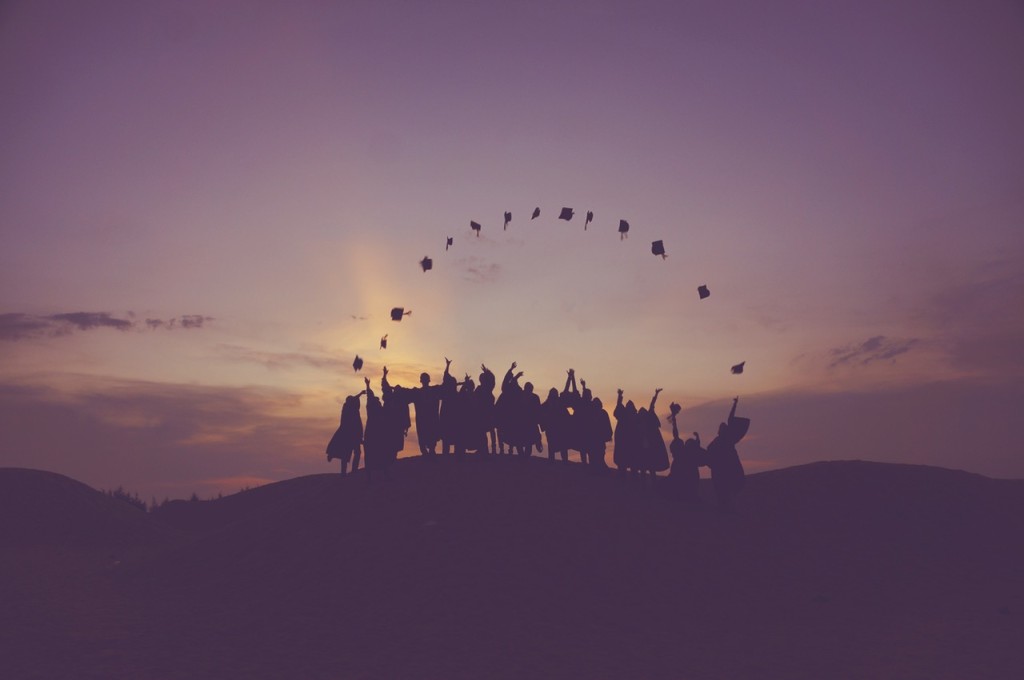 It's that time of year again. Thousands of students will line the lengths of bleachers across America—donning drapey gowns and a full head of hat hair—and wait patiently to commence the next phase of their young-adult lives. But before that, they'll bear witness to some of the most notable academic, political and pop-culture figures of the Twenty-First Century speak on adulting, some of which will give some pretty darn good advice.
If you're graduating this year, or if you're just wondering what you're doing here and could use a good pep talk, be sure to check out some of our favorite advice straight from the mouths of this year's best commencement speakers.
Sheryl Sandberg, Facebook COO
Virginia Tech
Named one of TIME Magazine's most influential people, and COO of the largest Social Media Networking site in the world, Sheryl Sandberg certainly has a lot of wisdom to impart. It came as a surprise, though, that her most important narrative had little to do with her work and success at Facebook, and more to do with how some of her toughest experiences have taught her to create more meaningful relationships, more meaningful communities, and above all, a more meaningful life.
Best Piece of Advice:
"My New Year's resolution last year was to write down three moments of joy before I went to bed each night. This very simple thing has changed my life. Because I realize I used to go to bed every night thinking about what I did wrong and what I was going to do wrong the next day. Now I go to sleep thinking of what went right. And when those moments of joy happen throughout the day, I notice them more because I know they'll make the notebook. Try it."
Nick Offerman, Actor (Parks & Recreation)
The University of Illinois at Urbana-Champaign
You can watch the full speech here.
Despite his rugged appearance and deadpan persona on NBC's "Parks and Rec," Nick Offerman is a big softie—a very wise, big softie—who delivered a speech that would indubitably make his theater professors proud. He described his 23-year old self as a "bleary-eyed ragamuffin" who served two dark nights in an Urbana jail during his time at UI. And if anything can give us hope that we'll get our ragamuffin ducks in a row and transform into a little less raggedy of an adult, it's that.
Best Piece of Advice:
"Every single day is another opportunity for learning, for further improvement. If you mistakenly think you have finished learning, because you have mastered your craft, or just turned in all of your term papers, well then you open the door for bitterness to take hold… Instead, you want to cultivate an openness to the world, to start the daily good work of being alive with the presumption that you still need to learn things, not teach them. You need to start your conversations with a welcoming stance of anticipation, not a defensive crouch. Assume the person you're speaking with knows something you don't, and be eager to learn it."
Will Ferrell, Actor/Comedian
University of Southern California

On a blistery California afternoon, thousands of students and their families heard the voice of a curly-haired angel give its rendition of Whitney Houston's "I will Always Love You." Kidding, it was just Will Ferrell. It's hard to believe the same guy who wore an elf costume and ate syrup on noodles would deliver some of the most comforting and mature statements aimed at quelling that inevitable post-grad anxiety. But hey, weirder things have happened.
Best Piece of Advice:
"To those of you graduates sitting out there who have a pretty good idea of what you'd like to do with your life: Congratulations. For many of you who maybe don't have it all figured out, it's okay. That's the same chair that I sat in. Enjoy the process of your search without succumbing to the pressure of the result. Trust your gut, keep throwing darts at the dartboard, don't listen to the critics, and you will figure it out… If you do have a moment where you feel a little down, just think about the support you have from this great Trojan family. And imagine me — literally picture my face — singing this song gently into your ear."
Steven Levitan, TV Producer & Co-Creator of ABC's "Modern Family"
University of Wisconsin – Madison
A very long time ago—back when typewriters, polaroids, and vinyl were less of a trend and more of a necessity—Steve Levitan was in the same spot as this year's current crop of UW grads, wearing only shorts under his gown and carrying a bottle of champaign at his side. Since then, Steve has made a career out of his creativity and sense of humor to become a writer and TV producer for one of the most popular sitcoms to date. But not before trying, and failing, more than a couple of times to find his groove.
Best Piece of Advice:
"It's hard to live up to your potential when you don't like what you do. Growing up, I was a terrible student. One high school teacher wrote, 'He shows no interest in Spanish and does as little work as possible.' And had I settled for a job in which I showed little interest, I guarantee that would've been my report card for life. I would've been a mediocre journalist or a decent ad-man. But because I love what I do, I happily give it my all, and I've been able to rise above my Spanish teacher's 'expecatciones' and rise up to my potential. Not everyone is so lucky; I know that. Not everyone can reach their dream job. But maybe you can, and thus live up to your potential. And what a shame not to even try."
Oprah Winfrey, TV Personality & Media Proprietor
Agnes Scott College
The former host of a wildly successful talk show and a historic peddler of good advice, Oprah Winfrey has undoubtedly given her fair share of commencement speeches. Though success has allowed her to fill her many closets full of expensive shoes, she warns us that shoes can't fill everything—well, the metaphorical spaces, at least. Through countless interviews and a whole lot of screentime, Oprah has learned that the contents of your wallet don't necessarily make for a fulfilling career. Which is great, because paying back those student loans can really do a number on your wallet.
Best Piece of Advice:
"You're nothing if you're not the truth. I've made a living, I've made a life, I've made a fortune — really it's fantastic — from being true to myself and, if I could leave you with any message today, that is it. The biggest reward is not financial benefits, though it's really good. You can get a lot of great shoes, nothing wrong with great shoes. But those of you who have a lot of shoes know that having great shoes and a closet full of shoes or cars or houses or square footage doesn't fill up your life. It doesn't. But living a life of substance can… And the baseline for 'How do you live a life of substance?' is whatever is the truth for you. What do you stand for?"