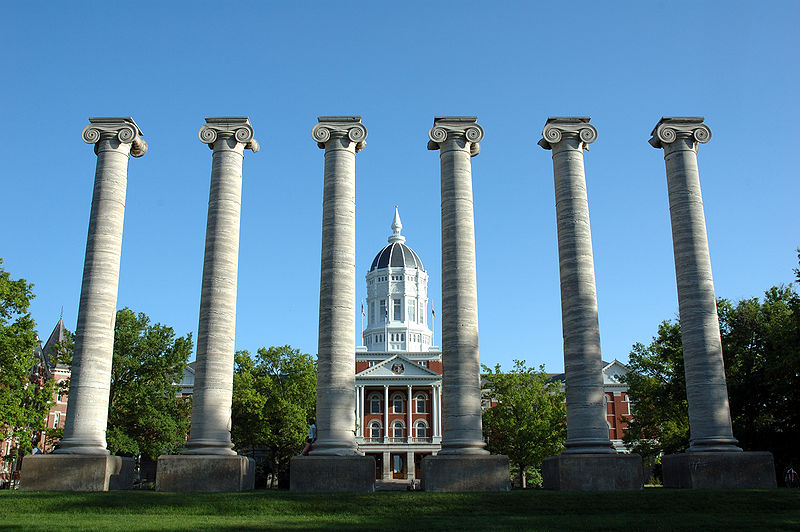 Perhaps you're a first-time renter, or maybe you've been around the block more than a couple of times. Regardless, the house hunting process never seems to get less stressful, no matter how many times you've done it. We've all heard those landlord horror stories—you call again and again, but they're unresponsive to your requests, or you get bullied out of your security deposit. Don't put yourself in a sticky situation; do your research and score the best Mizzou off-campus housing .
We've taken the time to weed through countless reviews, so you don't have to! Don't just take our word for it though; read on to see our top ten landlords near The University of Missouri.
Live in luxury when you choose an apartment from The Lofts of Columbia! The Lofts of Columbia offer one and two-bedroom units in four different apartment complexes, so anyone is bound to find a pad that suits their needs! Choose to live across the street from Mizzou at 308 Ninth, in the center of all the Downtown action at Broadway, or opt for a quieter area at The Manor and Cherry Hill.
No apartment is over a ten-minute commute to the Mizzou campus, and they all include impressive amenities like jacuzzi tubs, in-unit laundry, paid utilities, stainless steel appliances, and a whole lot more!
For over a decade, Hawks Management has been both developing and managing some of the best apartments in Columbia! Each of their four locations is conveniently located near the Mizzou campus and run along the city bus line so you can skip the drive to class.
The property manager, Twila, has taken care of these properties for over twelve years. One resident commented, "Twila is a great lady and will help with anything you need. Neighbors are friendly, and you can't beat the location!"
No need to worry about keeping track of multiple bills; each of their one and two bedrooms units come with utilities included. With unbeatable customer service and features like private balconies, walk-in closets, and a pet-friendly environment, it's no wonder so many people are choosing to live with Hawks Management!
Round up your friends and choose Rolling Rock Townhomes. Specifically designed for students, they are the closest townhomes to the University of Missouri campus! The Rolling Rock Townhomes offer students a variety of two to three-story, four bedroom townhouses with the option of a furniture package. Each townhouse comes with a two-car garage, but students can hop on the campus shuttle and be to class in five minutes. Hardwood floors, washers and dryers, and large closets are just some of the great interior features.
Here's what resident Christina had to say; "I love living at Rolling Rock! The management team is super friendly and easy going. The neighborhood is in a nice location; it's super quick to get to campus. The rooms are really spacious, and it's pet-friendly. I'm definitely re-signing for next year!"
The Kitty Hawk Apartments are centrally located, so getting anywhere in Columbia is a breeze! Potential residents can choose from a variety of floorplans ranging from one and two-bedroom units at their Kitty Hawk location to three-bedroom townhouses at their Parker Street Townhouses.
Units come equipped with all appliances, and the community offers two swimming pools, a fitness center, and a basketball court. The convenient location gives residents easy access to all of the local businesses, and getting to class on time is easy. One resident said, "I Have lived here for many years, and I have nothing but great things to say. Very friendly neighborhood and safe place to call home.
Choose The Den Columbia and live a life of luxury! This off-campus student oasis has two and four-bedroom units that come fully furnished, so you can skip the heavy lifting. Each person has their own private bedroom and bath, and each resident signs an individual lease, so there's no need to worry about splitting the rent check. If you don't have a roommate, the management team will help you find one! Additionally, residents can take advantage of the computer center, coffee bar, dog park, heated swimming pool, volley ball court, and the shuttle that takes you to campus and downtown Columbia!
One resident said, "Living at The Den has been such a fun experience! I've had a great time from being placed in a room with having my roommates picked for me. It has been a blessing. It's always clean and a great environment for a great place! I couldn't be any happier."
The Pointe at Rock Quarry Park
Locally owned and operated, The Pointe at Rock Quarry Park is a townhouse community specifically developed for Mizzou students. All of the townhouses have four bedrooms and 4.5 baths. Students can choose furnished or unfurnished apartments, and if you go with an unfurnished unit, you're able to bring your pet. Access to Rock Quarry Park, a free city bus pass, a swimming pool, and a fitness center are just some other things that make living at The Pointe so great!
Alan, a resident of three years, said, "The management is always responsive and always does their best to help with situations when they can. The apartments themselves are also great. They are very spacious and allow roommates to spend time together in common areas while also having good space to spend time alone when needed. I couldn't say enough to express our wonderful experience with The Pointe. I would recommend the complex to any college student in Columbia."
Calling all graduate students! Sorry, undergrads, this one isn't for you. The Broadway Village Apartments is graduate student housing community that maintains a quiet environment, away from all the hustle and bustle. At Broadway Village, all of the units are two bed, one bath and come with washer and dryer hookups. They even had a few larger units to choose from that come with private patios or balconies and additional storage.
Tenants receive free cable and internet and can use all of the community amenities, including two swimming pools, tennis courts, a basketball court, picnic shelters, a clubhouse with laundry services, and a private golf course. In addition, Broadway is situated near several restaurants, a grocery store, and a shopping center, making your day to day life a little easier.
Mills Properties has been setting up students with their perfect pads for over 30 years! Mills Properties develops, builds, and manages all of their properties, so you can trust them to be there every step of the way. They have over 40 apartment communities throughout the nation, with five of them located in Columbia.
Each of their communities is modern with up-to-date amenities, like swimming pools, onsite laundry, tanning, and off-street parking. While some of their apartment complexes are closer to Mizzou than others, each is centrally located and no further than ten minutes from campus and all the other great things Columbia has to offer!
Callahan & Galloway Property Management
Callahan and Galloway was founded over 20 years ago with the intention of being the best locally owned and operated property management company in Columbia! Over the years, they have grown to handle over 500 different units ranging from single family homes to apartments, lofts, and duplexes—the folks over at C & G do it all!
The company puts a huge emphasis on customer service and pride themselves on knowing their tenants on a first name basis. They don't set out to make the most money, but instead work hard to ensure their residents are comfortable and happy. Resident Hayden said, "I've rented from Callahan and Galloway for about three years, and they have been wonderful. Almost immediate responses to maintenance requests, kind and helpful office staff, fair prices, just generally a great group to rent from. I'm grateful to have had the opportunity to live there!"
A family owned and operated business for nearly 50 years, Warnken Properties has been bringing MU students some of the best housing options in all of Columbia! Executive Property Manager, Wendy, is an MU grad herself, so you can bet that these folks know what students are looking for when it comes to finding a place that meets students off-campus housing needs. Prospective tenants can choose from a variety of houses and apartments that are within walking distance to campus. Their properties range in size and offer tons of amenities including free parking, private bathrooms, A/C, and in-unit washer and dryers, just to name a few. With affordable rental rates and an attentive staff, you can't go wrong with a rental from Warken Properties!