We've been live at the University of Minnesota since October 15th and in that time, we've learned a lot about how students search for apartments and houses for rent around UMN.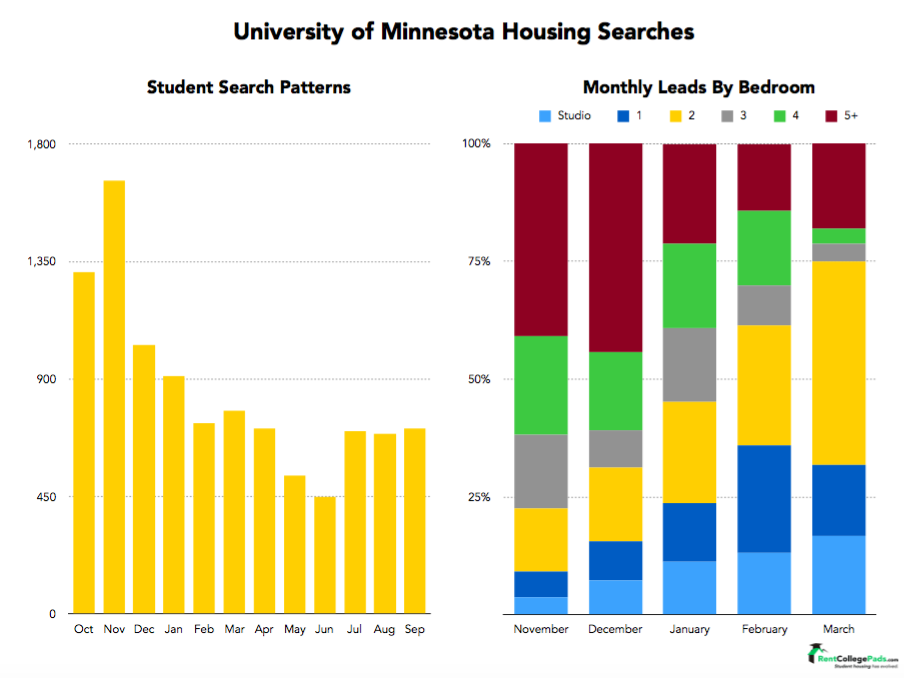 Using data obtained from Google and other available search engines, we were able to map out the average housing cycle for students searching on terms related to Minnesota housing, like "dinkytown housing", "umn apartments" and "apartments near university of minnesota". On these and similar searches, we see that students were most actively searching starting back in October and November.
But our second chart illustrates how students around the University of Minnesota submitted housing leads on Rent College Pads. Students who submitted leads in November and December were mainly looking for 5+ bedroom houses. That makes sense from a logical perspective, as living with a variety of roommates requires more planning and coordinating. It's hard to find a place that satisfies five people, so it's important to get that search started early.
With each passing month, more and more students have begun submitting leads to landlords who have studios, one bedroom and two bedroom places. March, April and May are peak apartment search months for students at the University of Minnesota, with more and more students signing leases at places around Stadium Village and for apartments in Dinkytown and Marcy Holmes.
Our advice to you for next year? If you're looking for a big house, get started early. If you're living alone or with just one or two friends? Feel free to start after winter break, but don't wait too long.