It's your 21st birthday and you're finally old enough to join your friends at a College Station bar. No more using a poor excuse for a fake ID. No more staying at home while your friends head out after pre-gaming. No more passive-aggressive complaints about how bars are too crowded and not very fun anyway. Now you get to join the party and pay too much for beer and watered down drinks.
How can you make the most of it? Most bars offer specials for birthday boys and girls, but what happens when the specials are done? Where will you go then? Maybe you'll bounce from bar to bar and try to figure out what scene makes you comfortable and which bars treat their customers the best. Or you'll hear about a place and you'll check out the menu and reviews online.
That's where we come in. We've combed through reviews at bars all around Texas A&M to put together a definitive guide of the best and worst bars in College Station, Texas. Never again will you make a mistake and waste a Saturday night at a bar you'll end up hating alongside the rest of the Internet mob.
The Best Bars in College Station
Bar Guide Methodology:
We gathered over 50 College Station bars and plotted reviews from Yelp, Google, Trip Advisor and Facebook. Then we removed any that failed to have at least 100 total reviews. It's important to have enough data to form an accurate sample size. We then removed any bars that didn't have at least 10 reviews each on Yelp, Google and Facebook. We were left with 16 bars.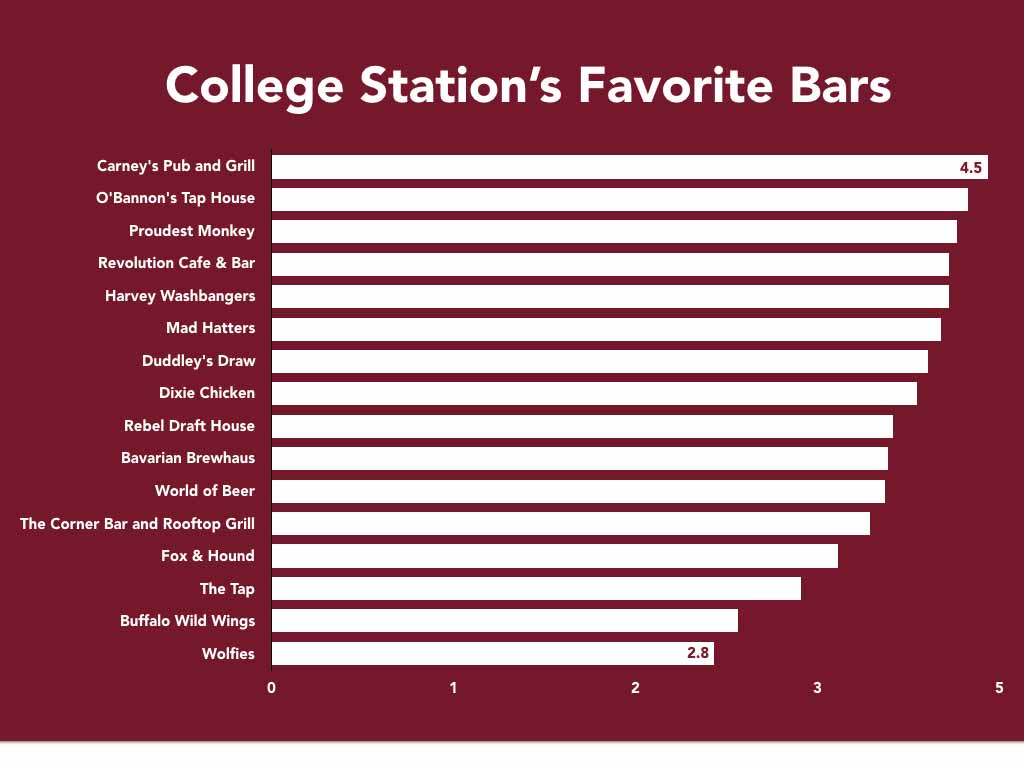 The winners? Carney's Pub and Grill, O'Bannon's Tap House and Proudest Monkey. In general, reviewers loved Carney's because it is a little less sloppy. It's a place where more grad students go, so you're less likely to bump into someone who's just drunk enough to fight anyone who looks at him the wrong way. That's always a plus. Also this photo from yelp speaks to their strong beer selection:
O'Bannon's is beloved because they have trivia on Sunday nights and a fine selection of craft beer. It's an Irish pub, so, duh and Proudest Monkey, while a little bit further from the Texas A&M campus in Bryan is well regarded for its creative cocktails and food stuffs.
The biggest loser? Wolfies. By far. Wolfies even ranked far below Buffalo Wild Wings, the national chain that never stops advertising and sells tiny chicken wings. The complaints about Wolfies seemed to center on two things: a lack of cleanliness and slow service, basically the two things that every dining consumer looks to avoid. It's no wonder they came in last.
Know Where Your Reviews Are Coming From
Our last tip is to check multiple sources if you're someone who relies heavily on reviews. We noticed that basically every restaurant or bar earned favorable reviews on Facebook, regardless of how well it scored elsewhere. Check out these average reviews across the different platforms:
Everyone loves everything on Facebook, despite what your newsfeed is telling you. Yelp is either a place where more honest assessment happens or a cesspool plagued with those who have been wronged by bartenders. Naturally every bar is going to have its good days and bad days, with customers maybe only experiencing one or the other, so be sure to check multiple reviews from multiple sources.
Your night out may depend on it.