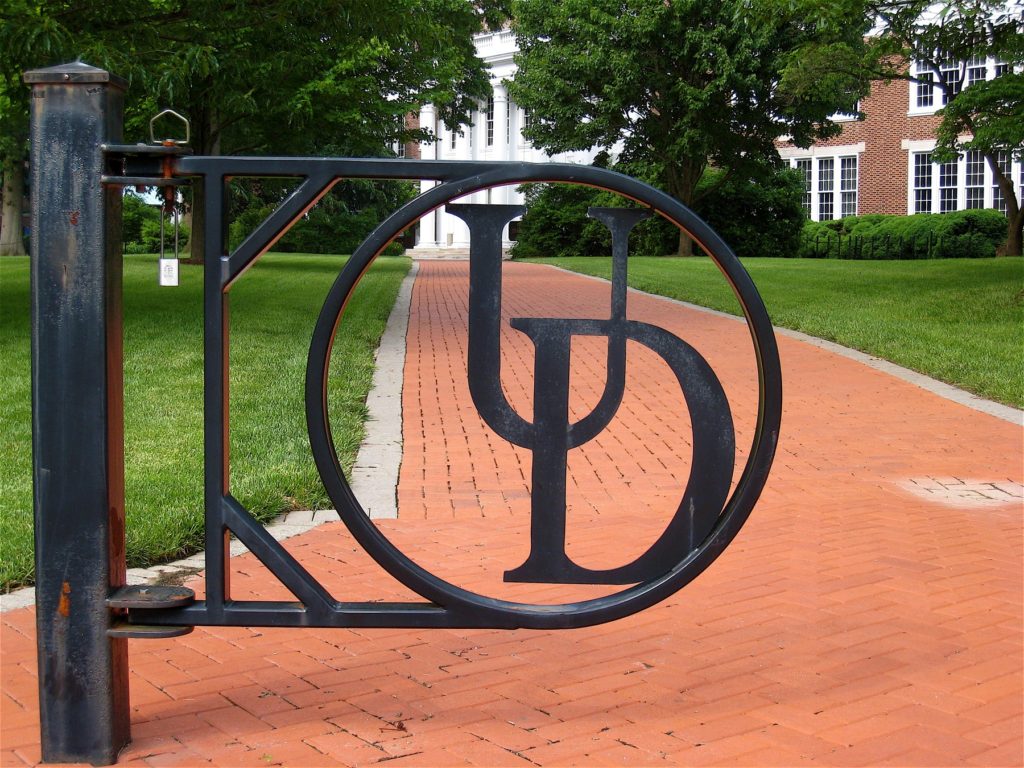 Between studying for your next Calculus exam, writing your History midterm, soccer practice, and trying to figure out what you're going to wear to the party next Friday, you have little time to pencil in University of Delaware off-campus housing hunting—especially when you need to link up your busy schedule with that of your equally busy roommates.
Hey, we get it. You have enough on your plate. Let us make the house hunting process a lot easier for you. We did all the digging and weeded through tons of reviews to bring University of Delaware students our top picks for landlords in Newark.
Rittenhouse Station (4.5)
Located just minutes away from University of Delaware's campus, shopping, and dining, Rittenhouse Station offers a comfortable lifestyle at an affordable price. The Station features units ranging from two bedroom apartments to four bedroom townhomes, so prospective residents are sure to find a unit that fits their needs. With newly renovated amenities, a brand new 24-hour clubhouse including a coffee bar, study rooms, resident printing center, and brand new fitness center, you can't go wrong with Rittenhouse Station!
Our favorite review:
"The staff is very helpful, especially since the addition of Brad…he is knowledgable and always quick with an answer to any question. They are nice apartments and in a good location as a Delaware student." Another resident saying "anything you need they are willing to accommodate you and take the time and effort to make sure you are satisfied."
The Retreat at Newark (4.2)
Located less than 1.5 miles from campus, The Retreat at Newark is convenient to the Acme grocery store, Walgreens, and other restaurants and cafes. The building even has its own stop on the UD Shuttle System, make it a hassle-free commute to class. Choosing The Retreat gives you a unique, well-rounded college experience with the perks of luxury living. The building has attentive on-site management to provide resident assistance whenever needed, and it's even a pet-friendly community—there is more than enough space for you and your pet. The Retreat at Newark is a truly great spot!
Our favorite review:
"The management staff is very nice and efficient. Free Starbucks coffee in common area, sometimes free pizza and snacks. The pool is very nice and clean. One thing I really like is they have a big study room, so you don't have to go to the library anymore."
Lang Development Group (4.1)
Lang Development group offers a variety of different units, many including private parking garages, private balconies, upgraded appliances, and spacious living areas. Whether you'd prefer to live in a one bedroom single or a six bedroom apartment, LDG has options for everyone!
Our favorite review:
"Best apartment buildings to live in, the landlord and all the staff are incredible and always make sure to handle any issues you may have. Never had a problem, if anything they go above and beyond!"
Pine Hill Apartments (4.0)
Located very close to the University of Delaware campus, residents can take advantage of its proximity to nearby malls, restaurants, and state parks. Pine Hill offers extremely spacious apartments with fully-equipped kitchens and a friendly staff that will provide you with great personalized service. Pine Hill amenities include a courtyard, laundry facilities, off-street parking, efficient appliances, a balcony, air conditioner, cable, and kitchen appliances. If you have a pet, no worries! For an additional fee, feel free to keep up to 4 pets.
Our favorite review:
"The property manager is friendly and helpful, and when you have maintenance issues, help is there quickly. The apartments are clean and have plenty of closet space" If you decide to live here, there's no going wrong!"
Capano Management Company (4.0)
The Capano Residential Community is more than just a place to live; it's a place to call home. Prospective tenants of the Capano Residential Community have a range of different apartment styles to choose from, from classic apartments to townhomes. Units include luxury features, including some pretty great amenities, and have some of the best locations near campus. With a well-trained, friendly staff, Capano Residential takes great pride in their apartments.
Our favorite review:
"I must say, the apartments [at The Reserve at Becks Pond] are absolutely beautiful. I had the opportunity to tour the two-bedrooms, two-bath floor plan model. It is an open concept apartment which includes several amenities like: a microwave, a dishwasher, a washer and dryer and other amenities. So if you are a working, single person…looking to live in a clean, quiet and modest community, this would be the place for you."
Ivy Hall Apartments (3.7)
Ivy Hall Apartments is an off-campus housing community located near the UD campus. Being newly remodeled, pet-friendly, and affordable, Ivy Hall Apartments offers a range of apartment styles from one to four bedrooms. With high-speed internet, a coffee lounge, and a spacious study hall, you can't go wrong with Ivy Hall. You can live with peace of mind, as all buildings have 24-hour digital recorded surveillance in the hallways and outside of the buildings. Additional amenities include coin-operated laundry, parking, and proximity to the UD shuttle line.
Our favorite review:
"Ivy Hall is a great apt complex for UD students. You can walk to classes, there is parking available, and you can't beat it for the money. The maintenance and cleaning people are really nice too. They have done a lot to help with security. There are security guards there at night, there are cameras outside and inside the buildings and there are locks on the front doors of the buildings now. They are nice when our rent check is late too. It's a great apt for the money for students at Delaware."
School Lane Garden (3.5)
Located across from the College Square Shopping Center, you'll be astounded by the building's masonry construction, with the cathedral ceilings and spacious living areas. Getting to and from campus will be a breeze, as School Lane Garden is located on the University of Delaware bus route and even has its own private drive for tenants that have a car. Students are sure to enjoy their time at School Lane Garden!
Our favorite review:
"Great property manager, always helpful, responsive, and quick to get help when problems arise. The location is awesome because there is a UD bus stop at the complex."
Fairfield Apartments (3.5)
Located near the University of Delaware campus and the U of D bus line, Fairfield Apartments has one of the best deals around. The apartments come equipped with a contemporary kitchen, heat and hot water, individually controlled heat and air conditioning, and an on-site laundry center. As a college student, being able to find groceries is a big deal; Fairfield Apartments offers a grocery store, retail shops, and restaurants located on site. Fairfield Apartments is a great option for any student looking for affordable housing.
Our favorite review:
"Very good and convenient!"
Apartments at Pine Brook (3.3)
If you don't have a car to drive to places like the grocery store or to get a bite to eat, you're in luck! Apartments at Pine Brook is not only conveniently located near the University of Delaware, but they're also near grocery stores, shopping centers, department stores, gas stations, restaurants, and bars. The complex offers on-call maintenance, an outdoor swimming pool, free off-street parking, onsite laundry facilities, free heat and hot water, and a fitness center. If you decide to live at Apartments at Pine Brook, convenience is at your fingertips!
Our favorite review:
"Best place to live! I love the tranquility of the place, the sound of nature being within 5 minutes in the center of the town. With a gym, a swimming pool and one laundry for each building, the apartments are very cozy and beautiful, well distributed and with so much light. The personnel are just amazing!!!! And if you have any kind of problem they will help you so much. Best choice to live in Newark."
One Easton (3.0)
Located just steps away from the University of Delaware, just minutes from the lively entertainment and business district, are the luxurious One Easton apartments! Residents can choose from a variety of two-bedroom floorplans that include private bathrooms for each person. The community often hosts resident events where you can make friends and eat free food—what college kid doesn't love free stuff, especially food! On top of that, while living at One Easton, you'll have access to amenities like study rooms, a free shuttle to campus, a free coffee and tea bar, an outdoor grilling area, clubroom, and so much more! Check out One Easton today and see why so many University of Delaware students are choosing to call One Easton home.
Our favorite review:
"I love living at One Easton! The amenities are great. The gym is very big, and I can almost always use the equipment I want without waiting. There are frequent activities for residents to attend that often if not always include free food."