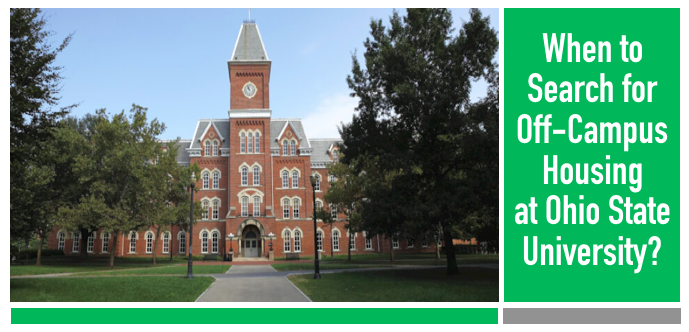 Maybe you just got into The Ohio State University as a third-year transfer. Or maybe you're a sophomore who'll finally get to move out of the dorms next year. Regardless, if this is your first experience looking for  OSU off campus housing, you may be uncertain about when you should start looking for the upcoming year.
We've got you covered.
Undergraduate Students
As fall approaches, the search for Columbus apartments and houses near Ohio State begins.
If you're a student looking for off-campus housing this year, you might want to begin your search soon. Undergraduate students typically begin to look for housing options in September before reaching its peak number of searches in October. The highest activity in off-campus housing searches falls between the months of September and November before significantly declining by approximately 50% in January.

Graduate Students
For graduate students who are looking for housing, we recommend searching for housing between September and November. With a peak in October, students tend to search the most for housing options between these two months. If you'd like to stay closer to campus, this is the best time to search for you.
However, if you're looking for a quieter neighborhood that is further from campus, this housing search may prove to be more flexible. Some preferred neighborhoods for graduate students include apartments on 9th & 4th, University Village Apartments, Runaway Bay Apartments, Governors Square Condos, Arbors of Watermark, Lantern Square Apartments, and Lenox Flats.
All of these apartments are either held by a majority of graduate students or are preferred housing areas recommended by past graduate tenants.
International Students
If you're an international student, there's no reason to wait around. You'll want to begin the search in August rather than September. Finding and securing housing may prove to be a prolonged task if you're unable to view the house in person beforehand.
However, we do not recommend signing a lease before having a friend or relative view the property. A resource that might be helpful is the Neighborhood Services and Collaboration (NSC). Through this resource, you will receive the proper aid to assist you in securing a house. The NSC services international students by reviewing lease terms, helping find housing and roommates, in addition to videotaping the property before and after moving
If you're looking for temporary off-campus housing, a few locations can provide those accommodations such as The Blackwell Inn, Fairfield Inn, Hilton Garden Inn Columbus University Area, Holiday Inn Express, The University Inn, and more.
Tips
The transition into a new house is a struggle in itself, but there are a few tips I have to help save you from a few problems you might have in the future.
Research who you will be renting from: Doing research on your landlord or management company might help to showcase whether or not renting from a specific company is the best option for you. Many times you can find reviews on the previous tenants who have experienced what it was like living in a similar property owned by your landlord. From there, you can either make an informed decision on whether or not you'd like to rent from them, or have the knowledge to take precautions to prevent any future obstacles.
Research the area: It's important to know what type of environment you'll be moving into beforehand. In the case of Ohio State, the Northeast side of campus seems to be the safest and quietest part of campus. Like many other campuses, the further you are from campus, the less safe the area becomes. Therefore, finding housing closer to campus is recommended.