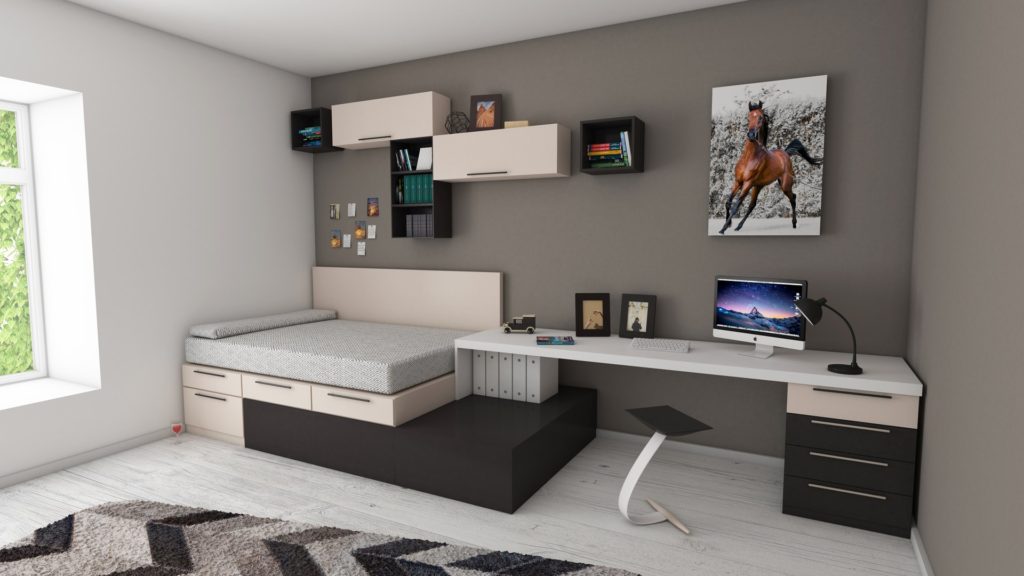 As past and present college students, we at Rent College Pads can totally relate to the annoyances of trying to find UNH off-campus housing. Between getting your roommates together to go house hunting, and making sure you stay away from less than reputable places, things can get pretty stressful. Stay calm; we got your back!
We sat down and dug through reviews of countless off-campus housing options, leaving University of New Hampshire students with the top ten off-campus housing landlords in Durham.
Imagine waking up each morning and being just minutes away from the University of New Hampshire. Choosing a rental with Golden Goose Properties turns that dream into reality. Each of their properties is less than a 10-minute walk to campus!
The team over at Golden Goose Properties solely focus on developing, owning, and managing off-campus housing for NHU students. They have a vast portfolio of apartments, townhomes, and houses for students to choose from. Units have modern updates, come furnished, and include in-unit washers and dryers. Whether you want a place to yourself or a pad with some roommates, you are sure to find what you want at Golden Goose Properties!
Live in off-campus luxury when you choose The Lodges at West Edge! The problem with many apartment complexes is the lack of customer service. Well, you won't come across that issue at The Lodges. Thalia, the onsite property manager, is highly talked about by residents. Students have said that "Thalia at the front desk was super helpful," and "My experience with the lodges faculty so far has been nothing but positive! They were very friendly, and Thalia really helped me!"
The Lodges has fully-furnished two and four-bedroom cottages, townhomes, and flats, where each resident has access to a private bedroom and bathroom. Students can take advantage of some sweet amenities like the indoor/outdoor hot tub, 24-hour computer lab, outdoor fire pit, a shuttle to campus and so much more! Call Thalia today; we're sure she's more than happy to help.
The Cottages of Durham takes off-campus to a whole new level! A yoga studio, rec center, social lounge, outdoor trails, and coffee bar are just some of the awesome perks students will have access to at The Cottages. Grab a friend (or four), because The Cottages have several two to five bedroom floor plans to choose from.
Resident Michelle said she, "would highly recommend living at The Cottages of Durham. The amenities in comparison to other Durham properties are top notch. Each resident enjoys their own bedroom, bathroom, and walk in closet, along with laundry in each cottage."
Live steps away from both the University of New Hampshire and Downtown Durham when you choose a rental from University Downtown! University Downtown has two beautiful luxury complexes, the Madbury Road and Jenkins Court, that are each just a minute away from campus or the hustle and bustle of downtown.
Round up your friends and pick from four to eight-bedroom units where each person gets their own private bedroom, and all utilities are included. Students even have the luxury of a burger and frozen yogurt shop right in the building to keep you full and focused!
A family owned and operated business, Rent UNH has been helping students find their perfect pad for over 20 years! As parents themselves, they understand what students are looking for and strive to provide the best service and off-campus housing in Durham.
Rent UNH has a wide variety of houses and apartments, so anyone is bound to find something that fits their needs and style. Each of their units is located less than a mile to campus, making the commute to class a breeze. Due to the diversity of locations, each offers unique amenities and floor plans, but most places include utilities, come with a flat screen TV, and offer furniture packages to lighten the moving process.
Looking to get the most bang for your buck? Rivers Edge Apartments claims that they are "the best value in the area for student housing," and that if you compare them to places around town, "you'll quickly add up that Rivers Edge will save you more than $7,000 annually." That's a lot of dough!
Located just a mile away from the UNH campus, Rivers Edge offers students two to five-bedroom floorplans, and rates are all-inclusive! Onsite parking is available, but students without a car can hop on the UNH shuttle which runs to campus every 30 minutes!
The folks who started Schoolhouse UNH are both University of New Hampshire graduates, so it's safe to say they get what students are looking for when choosing off-campus housing. They have two large houses that are adjacent to one another that contain five apartments with their own floors. The houses are set back on a quiet road but just steps away from anywhere you'd need to in Durham.
The apartments come fully-furnished and include yards, sundecks, and free parking! For early morning pick me-ups, feel free to grab some coffee at the Dunkin Donuts located nearby, or hit up the late night convenience store when you run out of toilet paper.
Pendexter Property Management is a locally run business whose team of UNH alumni take pride in taking care of their tenants and their properties. With locations all around Durham, students are sure to find a place in the area of town they want to live in. Choose apartments and houses walking distance to campus, on popular Madbury Road, or right in Downtown Durham.
Units vary, but if you decide to live with roommates, everyone will get their own bedroom for privacy. In addition to this, rent includes hot water, heat, and parking. The guys over at Pendexter Property Management have been in the biz for over 25 years, so you can count on them to help you find a place to call home!
Priding themselves on providing luxury student living, University Edge meets the mark of being one of the best apartments in Durham. Being walking distance to campus and downtown gives students the convenience of having everything they need right at their fingertips. Students can choose to live alone or find a buddy and pick from the various one and two-bedroom floorplans offered.
You'll have plenty of space here; the units at University Edge are 50% larger than the average Durham apartment and come with in unit laundry, granite counter tops, and stainless steel appliances. Students can take advantage of cool community amenities like a clubhouse, a coffee bar, a free year-long Wildcat Fitness membership, spoker table, and more!
Each of the UNH Apartments was designed with students in mind! Skip the car and the shuttle, because each of their apartments is located in the heart of Durham, making anywhere you'd need to go walkable. Residents can choose from a two to four-bedroom units which are all individual leases, so you don't have to worry about your roommate and their portion of the expenses. UNH Apartments include utilities in their rent, and if you do decide to bring a car along, they'll give you a free parking spot! All properties also include a laundry facility, yard maintenance, and internet.