Every year, thousands of Kansas State students searching for off-campus houses and apartments in Manhattan, KS near Kansas State use CollegePads.com to find their perfect place to live near K-State. A vast majority of off-campus leases are signed during the early part of the second semester, months and months in advance from your move-in date.

While houses typically lease up more quickly, If you're looking to land one of the top apartments in Manhattan, KS you'll want to start your apartment hunt as early as October and have a lease signed no later than February, but it'd be good to have an idea of what you're doing before you head home for Winter Break. Kansas State students do continue to sign leases throughout the spring semester, however, options are pretty limited. To get the best pad and to save yourself some unnecessary stress, start your search sooner rather than later!

These properties were the five most contacted apartments for rent In Manhattan, KS by K-State students during the Fall 2019 and Spring 2020 semesters.
---
1. The Gramercy
Live in upscale off-campus living when you choose The Gramercy! This apartment complex feels more like a boutique hotel having been designed by award-winning NYC Interior Designer, and offers stunning two-bedroom floor plans for you and your best friend. The stylishly furnished apartments come decked out with a designer kitchen, vaulted and private balconies and community amenities include a resort-style pool, coffee bar, and a fitness center that has Peloton Bikes.
---
2. Pebblebrook Apartment and Townhomes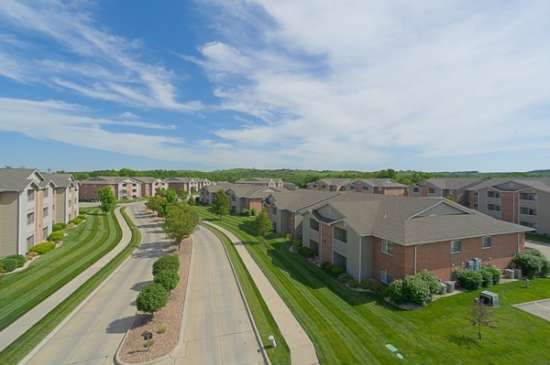 For the student that likes to be set back a little further from the campus area mayhem, but still close enough to everything, Pebblebrook Apartments and Townhomes is for you! Choose from one of their spacious two, three, and four-bedroom apartments and townhomes that are set back in a serene park and private wooded area just minutes away from the K-State campus. Apartments come with free parking, private patios, and a cool clubhouse to hang out with your friends.
---
3. 1026 Bluemont Ave
Calling all our single ladies (and gentleman), 1026 Bluemont Ave is a sought after spot for people living alone as the complex only has one-bedroom units and for a pretty sweet deal! These units are located in a prime location right across the street from Aggieville and 2 blocks east of the KSU campus. They have been recently renovated to include a washer and dryer, granite counters, and nearly all utilities are paid for. It doesn't get much better than this for a person looking to live alone! 
---
4. Claflin Apartments
Whether you're looking to live alone in a studio suite or one-bedroom or shack up in a four-bedroom unit with some friends, the Claflin Apartments are a top choice for K-State students! Located only six blocks away from campus, students can roll out of bed and get to campus in a flash. Rent is right and the apartments have stainless steel appliances, in-unit washer and dryers, and huge walk-in closets!
---
5. E-W Apartments
Perfect for Engineering and Architecture students at K-State, the E-W Apartments are located on the west side of campus and are managed by a great family that takes pride in offering personal attention to their residents. While it may not be a brand new building from the outside, the management team takes great care of the property by keeping it well maintained and undergoing renovations when needed. Units include new carpet, dishwashers, onsite laundry, and are quiet and close to Kansas State!
---
How We Determined The Most Popular Apartments in Manhattan, KS 
We did a bit of digging into our numbers to see what apartments in Manhattan, KS had the most students reach out to landlords in the past year. The ranking only includes rentals that have been listed on College Pads in the last year.
What apartment on our most popular list was your favorite? Comment your favorite place below!