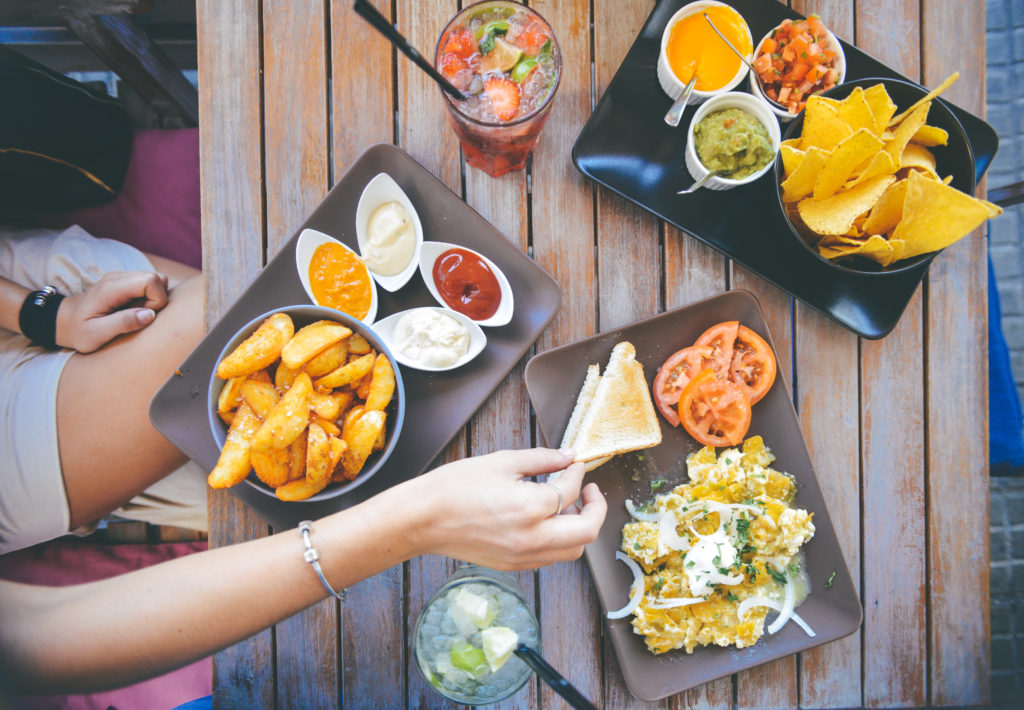 You pulled an all-nighter studying for that chem exam, checked your Insta, had a full day of classes, checked your Facebook, met your lab partner to catch up on your project, checked your Twitter, went to soccer practice, and now you are starving!
We know the last thing you want to do after a busy day is cook your own meal. Luckily for you, we came up with five places that will cook a meal for you near IUP off-campus housing , so you don't have to—and we're fairly confident it'll taste better than easy mac and ramen.
Steel City Samiches Bar & Grille
Address: 15 N 7th Street
Phone: 724-801-8402
Steel City Samiches Bar & Grille serves up some of the area's best burgers, wings, milkshakes, and samiches bigger than your head. Steel City—which is often compared to the famous Primanti Bros—is home to the world's largest Pittsburgh sandwich, the Stuffaluffagus.
Think you have what it takes to devour this monster? Grab a partner and finish this bad boy in less than thirty minutes, and you'll get your picture on the Wall of Fame. FYI: the current record is 9 minutes and twenty-seven seconds.
Besides delicious samiches, Steel City claims to be "IUP's craft beer headquarters," so you can stuff your face and kick back a cold one at the same time. If you want great bar food with a friendly environment, this is the place to check out. You can even enjoy their outdoor patio!
Tres Amigo's Mexican Restaurant
Address: 1540 Oakland Ave
Phone: 724-349-1040
Looking for authentic Mexican cuisine, amazing salsa, a tasty margarita, and fast and friendly service? Tres Amigos will be your new favorite spot! The folks over at Tres Amigos are serving up delicious food at an even better price. Every time you visit, you'll leave full and happy without breaking the bank.
Stop in during happy hour, and you can save even more! Beers go for just $1.99, and their favored margaritas for just a dollar more. And you can't leave until you've tried their fried ice cream for dessert.
Nap's Cucina Mia
Address: 1035 Philadelphia Street
Phone: 724-465-5396
Nap's Cucina Mia delivers food so good that people drive hours just to get it! Napoleon (Nap) and Josephine Patti opened their first venture, Nap Patti's Bar, in 1949. Fast forward to 1992 when they closed for renovations, and their daughter Mary Jo reopened the place now known as Nap's Cucina Kitchen.
Nap's offers authentic, high-end Italian cuisine taken straight from the family recipe book. Owner Mary Jo, along with her husband Bill, and son Nick—who happens to have a Masters in Italian cooking from Florence—are the masterminds behind the menu.
They have an open kitchen for customers to watch as their food is carefully prepared, and each dish is made from scratch with fresh, local ingredients!
Josephine's Pizzeria & Enoteca
Address: 1037 Philadelphia Street
Phone: 724-471-2988
After the success of Nap's Cucina Kitchen, owners Mary Jo and Bill decided to take a whack at a pizzeria. Josephine's Pizzeria & Enoteca was born and sits right next door to the beloved Nap's!
Josephine's has a relaxed environment, where you can grab a drink and a delicious slice (or two) of pizza.
Obviously, pizza's are the highlight, but you can't go wrong with anything on the menu. The joint also features an extensive wine selection and several craft cocktails to pair with your pie.
India Grill
Address: 1047 Philadelphia Street
Phone: 724-464-5300
Both the owner and head cook of India Grill put their time and care into each meal ordered to guarantee your meal is of the highest, authentic quality! At India Grill, they make all of their dishes in-house and from scratch. They even have a ton of vegetarian options for those who don't eat meat.
Choose to order takeout or dine in and experience India Grill's homey atmosphere and unmatched hospitality. Best of all, IUP students receive an additional 10% off.
Did your favorite make the list? Comment below and let us know!