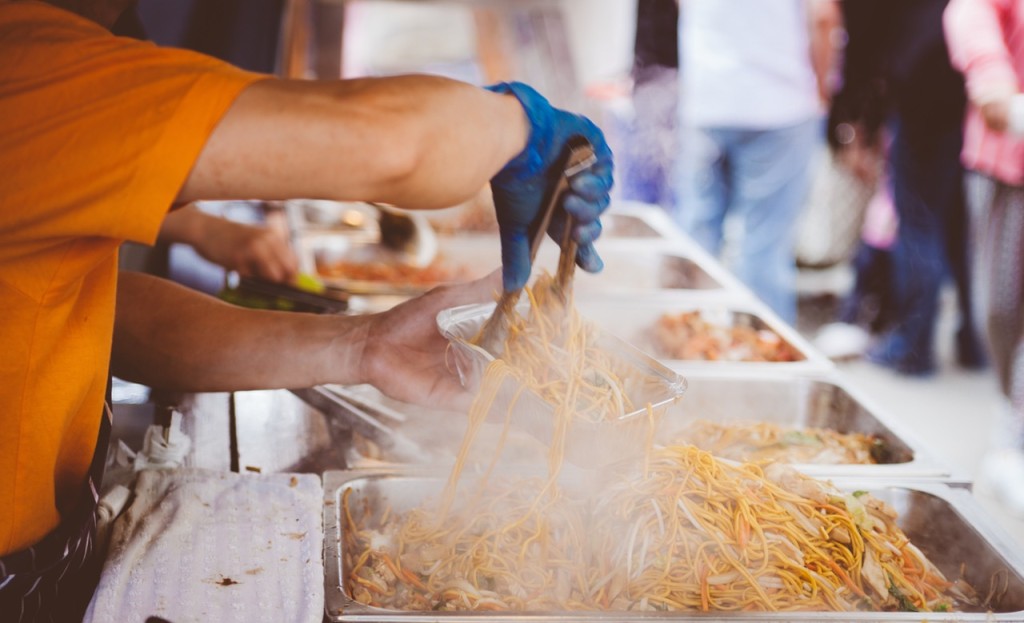 Gone are the days of poorly packaged grease bombs catered to army basers and working class lunch takers. Thanks to the surge of mobile eateries in metropolitan areas like Miami and Los Angeles, the good old fashioned "roach coach" has transformed its reputation as a greasy street cart into a burgeoning culinary industry.
Students at Drexel Universty are particularly thankful for this new diversity in lunch options. We did a little digging, touched every corner of the Drexel Reddit community and investigated which of these trucks are worth the long lunch lines. According to you, here are the 11 most popular food trucks you won't want to pass if you're a student at Drexel.
The Jimmy Truck (Pyramid Pizza)
Where To Find: 31st and Ludlow Streets
What To Order: Jimmy's Sister
Why We Love It: The Jimmy Truck has been a favorite of the Drexel campus for quite some time, offering a list of gut-busting delights and some "Skinny Jimmy" alternatives for your friends who are a little more health conscious. Health aside, we suggest you try the infamous Jimmy's Sister, a combination of Philly steak, chicken fingers, mozzarella sticks, fries, red sauce, and cheese wiz…all layered on top of a ten-inch hoagie. Your arteries will most definitely take a hit from this one, but it's oh so worth it.
Cucina Zapata
Where To Find: 31st and Ludlow Streets
What To Order: Cap'n Crunch Tilapia Burrito
Why We Love It: There are no words to describe Cucina Zapata, but we'll try anyway. This overtly original food truck refuses to be confined to one culinary box—they combine the flavor and flare of Japanese and Mexican cuisines with the comforting crunch of breakfast cereal (you heard right). Somehow, it works, and it's garnered some pretty rave reviews from the Philadelphia locals.

Le Dominique Creperie
Where To Find: Market Street (Outside Drexel University Library)
What To Order: Tiramisu Crepe
Why We Love It: Conveniently located outside the Drexel Library, Le Dominique is a quaint little crepe stand offering a taste of France to the Drexel campus. Le Dominique's customers appreciate the time and care the owner puts into his food—each crepe is made with fresh ingredients and individually handcrafted into an artistically presented dish. Whether you're in the mood for something savory or sweet, morning or night, Le Dominique has something for everyone. Trust us; it's worth the wait.
Pete's Little Lunch Box
Where To Find: 33rd and Lancaster Streets
What To Order: Bacon, egg, cheese, and hash browns on a bagel with "saltpeppaketchup."
Why We Love It: Pete's Little Lunchbox couldn't be more college-friendly if it tried. The truck sits conveniently close to campus and serves a variety of American comfort foods for cheap. And we mean cheap—most dishes clock in under just five dollars. Customers appreciate the tasty food and friendly service, and we hear their breakfast sandwiches can cure even the worst hangover, making Pete's your go-to breakfast spot after a night on the town.
Hey Bro
Where To Find: Behind the Main Building
What To Order: Finger Parm
Why We Love It: A Reddit favorite, Hey Bro is beloved by Drexel students not only for its signature "Finger Parm," but for the truck's owner, "Richie." According to the Drexel Reddit Community, Richie is a "great dude" and has "the best fries around." So next time you're in the area, stop by and say hi to Richie. Maybe order a Finger Parm while you're at it.
Cheese E Wagon
Where To Find: In front of Drexel Law School, between 33rd and 34th Streets
What To Order: Southwest Chicken Quesadilla
Why We Love It: Owner, operator and Chef, Mike Sullivan, puts a delicious, gourmet spin on the classic grilled cheese that we know and love. With reasonable prices, a great location, and great food, we don't know what's not to love. Be prepared for beauty when you're peeling apart your cheesy deliciousness and enjoy this Drexel favorite!
Pitruco Pizza
Where To Find: Drexel University: Market between 33rd St and 34th St
What To Order: Spicy Garlic
Why We Love It: The Pitruco Pizza truck doubles as a mobile brick oven and serves amazing wood-fired pizza straight from the sidewalk. Pitruco creates tasty personal pizza's from scratch and delivers to a variety of Philadelphia locations for just $10 or less. This truck is a Drexel student favorite, and we can see why.
Andy's Chinese Lunch Truck
Where To Find: 32nd Street, by UCross. Look for the unmarked White Food Truck.
What To Order: Chicken Teriyaki
Why We Love It: With a menu of only five items for all under $6, you'd probably expect the food to be, well, not so great. Boy, is that assumption wrong! People rave about Andy's menu all over town. So when you see his white truck, make sure to stop by and try it for yourself.
Kim's Dragon
Where To Find: Drexel Campus on 31st and Ludlow (small street after Market)
What To Order: Shrimp Rolls and General Tso's Chicken
Why We Love It: We love Kim's Dragon because you get a lot of bang for your buck! Big portions and great combo deals keep Drexel students coming back to Kim's; deals like two spring rolls, a main dish, and rice or lo mein, all for only $6. As you could imagine, the line outside of Kim's truck can stretch pretty far. We suggest getting these before the lunch rush, but if your class schedule prevents you from beating the line, no worries—we hear the line goes pretty quick!
Halal Food Truck
Where To Find: 33rd Street, near Mario the Dragon
What To Order: Lamb over rice with white sauce.
Why We Love It: There are a few other Halal food trucks near the Drexel campus, but this one always seems to take the crown. With great options to choose from and an average price point of just $5, you can't go wrong with this truck! Even better, there's a little something on the menu for everyone—the truck caters to both meat-eaters as well as vegetarians, without compromising the culture.
Spot Burger
Where To Find: 33rd and Arch
What To Order:
Why We Love It: This Drexel favorite serves up gourmet sirloin burgers, cheesesteaks, and sloppy joes. Oh, and did we mention twice-fried French fries!? We've never heard of those before but, man, are they great. This truck serves incredible food with copious amounts of flavor that will amaze you. A good rule of thumb is to get there early—this place will often sell out, so make sure to get there at a good time.