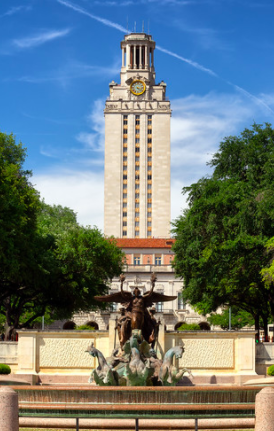 The University of Texas at Austin is home to more than 50,000 students which often can feel like a city in itself. If you're in need of off-campus housing near UT-Austin, becoming familiar with the different neighborhoods in Austin will help to determine which neighborhood will be the best fit for you, along with knowing how far your commute to the UT-Austin campus will be.
To help make your search for UT-Austin off-campus housing and apartments in Austin a little easier, we at College Pads put together a list of neighborhoods that are near the University of Texas at Austin campus. While these aren't all of the neighborhoods in Austin, they are the most popular amongst students. Each of these neighborhoods is within walking distance to campus, or just a short bike, car, or bus ride (free to all UT students) away.
West Campus
The West Campus neighborhood, also known as West University (due to it's western proximity to the UT campus) is the hub of off-campus living of UT-Austin students. For over half a century, more than 17,000 people, primarily undergrad students, call West Campus their home year round. This small area consists mainly of apartment complexes and a mixture of houses, West Campus houses more than 50 Greek Organizations and over 1,000 student organizations registered at UTA have noted that they live in this neighborhood.
The location is prime for students because it borders the UT campus so most students can easily walk or bike to class. The longest possible walk anywhere on campus is 15 minutes (on the highside) or a 5-6 minute bike ride. West Campus has an abundance of restaurants, services, and shops, many of which can be found on popular Guadalupe Street, or more locally, known as The Drag. Day or night The Drag is always the busiest spot in the entire city of Austin. If you're looking for the whole "college experience" vibe, basically, just about anything a student could want or need can be found in West Campus.  
North Campus
The second most sought after neighborhood by UT students is the North Campus neighborhood, or North University. As one could guess, this historic neighborhood is just steps away from campus and borders UT-Austin to the north. The diverse neighborhood is made up of undergrads, graduates, and faculty/staff alike. There is a plethora of housing types like low-rise apartment complexes, single-family homes, duplexes, and more to choose from. This tree-filled neighborhood is also known for being quieter than West Campus so it's a bigger draw for graduate students.
North Campus is Austin's most bike-friendly neighborhood and the closest to many of the sporting complexes, parks, and buildings on campus – like the engineering buildings. Although close to campus, several bus routes run throughout to take you all over the city. There are also a handful of tasty restaurants, shops, and grocery stores to meet all your daily needs.   
Hyde Park
Located just north of North Campus is the picturesque neighborhood of Hyde Park. This centrally located neighborhood is just minutes from the UTA campus and the hustle and bustle of Downtown Austin. Hyde Park is a highly desirable neighborhood that draws in a mixture of students, families, faculty/staff, and young professionals.
Hyde Park is certainly more laid back than other neighborhoods near campus and while there are apartments and condos sprinkled throughout, the majority of housing in the area are houses and duplexes that run along the shady tree-lined streets. This neighborhood has the most convenient grocery options, wonderful restaurants, and easy access to transportation options. If you're a student looking for a more quiet atmosphere, but want to be close to campus (especially the north side)  be sure to look into the Hyde Park neighborhood. 
East Austin
A historically working-class neighborhood, East Austin (located directly east of UT) is an up and coming neighborhood that has gone through a lot of redevelopment and revitalization over the years to become one of the most favored neighborhoods in Austin.
Dubbed America's "hippest hipster neighborhood" by Forbes, East Austin is home to students, young professionals, musicians, artists, and families throughout. There is a vast variety of apartments and houses to rent and rent prices in East Austin are lower than those of that in both West and North Campus. East Austin is growing by the day and has tons to offer! The neighborhood has great walkability and there are tons of restaurants, food trucks, coffee shops, and the most farmers markets in the city are held here year long.
Downtown
If you're looking to be in the heart of it all, Downtown Austin may be the place for you! Downtown Austin runs adjacent to the UT-Austin campus-along the southern border. Downtown offers more public transportation options than any other Austin neighborhood so students can easily hop on the light rail or any of the 20 different buses that run from Downtown to UT. The neighborhood is filled with over 300 of the best shops, restaurants, services, and there is never a shortage of entertainment day or night, especially on popular 6th Street.. The majority of living options are high-rise apartments with sweeping views of the city and city staples like the Texas State Capitol and Lady Bird Lake.
Downtown is a bit more pricey than other neighborhoods around UT, so most students opt for other neighborhoods but still venture Downtown throughout the year. While there are students who reside here, you'll mainly find young professionals and empty nesters residing here. 
Riverside
Located South of East Austin and just west of Downtown Austin is the trendy Riverside neighborhood. Getting its name for it's on the lake location, Riverside rentals give students the most bang for their buck. A little further than some neighborhoods (an average 20 minute commute to campus) Riverside was created in the 70s to be an off-campus housing neighborhood for UT-Austin students.
Over the years, Riverside has been transforming and now luxury apartment complexes have been popping up all over, Many of which come furnished and rope your utilities into your rent price. Tons of transportation options run through RIverside and there is no shortage of restaurants, bars, and entertainment options. Students residing in Riverside will be a short hop to popular South Congress and 6th Street. 
Far West
Don't let the neighborhood name "Far West" fool you. Although the Far West neighborhood is located west of West Campus, it's not actually that far at all. This neighborhood is popular among UT students who have their own mode of transportation or need a more budget-friendly rental. Far West is a much more spacious neighborhood offering a bunch of different apartments and houses of all sizes.
Unlike many other areas, Far West also has ample street parking, which is usually fee.  The UT Shuttle route runs throughout Far West making the average commute about 20-25 minutes to classes.
To recap, here are some helpful tips/reminders:
All housing in the Austin area neighborhoods mentioned are accessible to the University of Texas at Austin campus through the transit system and are under five miles away. 
Most students living off-campus in Austin live in the neighborhoods mentioned, but there are several other Austin neighborhoods not mentioned. These are just the most popular and student-dominated areas.
Make sure your new place is easily accessible to shopping and grocery stores for running errands.
Use Google Maps (and our walktime function on each College Pads property listing) to determine the distance of a property you are considering to the University of Texas at Austin campus.
One example of a landlord near UT-Austin is Westside Group.