A lot of things in life can be difficult and time-consuming, like getting in shape, reading a book, and cleaning up after a party—that's why there are supplements, SparkNotes and Shamwows. As human beings, we've life-hacked our way through the centuries in order to make the tedious things in life as simple as possible. It's no surprise, then, that rent collection has recently entered the online realm and, in doing so, has become easier than ever.
We took a look at five popular online rent paying services landlords can use that make it fast and easy to get paid on time. But before we get to the tools that'll make rent collection easier, it's important to understand why collecting rent online is worth the effort.
But before we get to the tools that'll make rent collection easier, it's important to understand why collecting rent online is worth the effort.
As we pointed out recently in our blog post and video on texting your student renters, it's becoming more and more important to meet your tenants in their comfort zone from a technology standpoint.
Each year, more "mobile wallet" options are popping up. Paying back a friend has become a social experience since millennials have latched onto the various technologies.
"Millennials are early adopters of mobile wallets. Fifty-five percent of people who say they use mobile wallets are millennials (ages 18 to 34). These mobile natives are likely to continue to drive mobile wallet adoption."
From Venmo to Google Wallet to the old reliable in this field, PayPal, the digital transferring of money isn't going to slow down anytime soon. And now, with tons of online rent collection services at your disposal, you can avoid the hassle of tracking down a tenant's rent check, market your apartment or property management as tech friendly and streamline your collection efforts on the first of every month.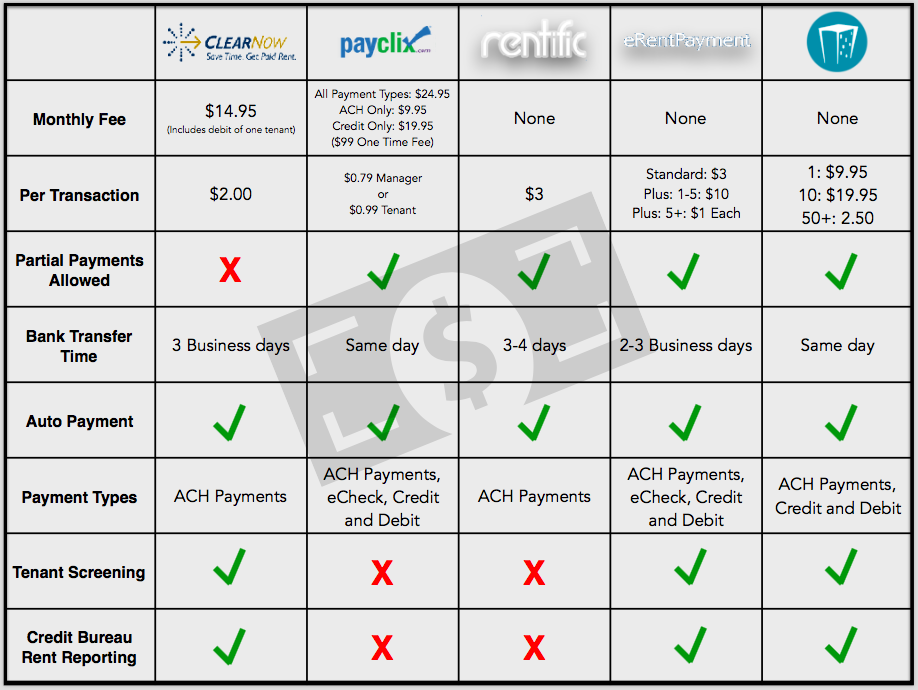 PayClix entered the market in 2004 and has processed over $400 million dollars worth of online payments. They seem to be most proud of their "Accept or Reject" option, a security feature that gives landlords final control over accepting and receiving all payments—scammers beware.
Advantages: PayClix has the cheapest per transaction charge, with less than a dollar per transaction. They allow partial payments, and you can set up auto-pay as well. You're able to process ACH, eCheck, Credit and Debit card payments and, even better, they are able to integrate with your current accounting system. Lastly, they do same day transferring, so PayClix never holds on to your funds personally.
Disadvantages: They have a one-time fee of $99 dollars, as well a few additional monthly fees tacked on, depending on how you pay. They don't offer tenant screening nor do they do credit bureau rent reporting.
Clear Now made its debut in the year 2000, right around the cusp of the new millennium. They boast an impressive A+ rating from the Better Business Bureau and support landlords and property managers of all sizes.
Advantages: Clear Now has the second lowest transaction charge at $2 dollars per payment and a monthly debit of one tenant is included in their $14.95 fee. You can also set up auto-payments based on either bi-weekly, monthly or other payment options. In addition, they offer free and robust tenant screening services for their customers.
Disadvantages: Clear Now is the only company on the list that does not allow partial payments in some form. They also have a bank transfer window of three days to process funds, and they only accept ACH payments, excluding debit and credit cards.
PayYourRent formed in Los Angeles in 2007, with a strong emphasis on customer service. They believe in helping every property manager, whether they manage a modest single-family house or a thousand-unit portfolio.
Advantages: They have no setup fee and no monthly fee for property managers. They allow for same-day funds processing and accept auto-payments and partial payments. They also offer tenant screening, allow for credit bureau rent reporting, and accept most forms of payment, including ACH payments and credit/debit cards. Lastly, they recently rolled out an app, allowing students and landlords to make payments and monitor transfers on the go.
Disadvantages: Despite not having initial setup or monthly fees for property managers, they have the highest fee per credit transaction of the five companies.
The youngest of the five, Rentific took on their first customer in the summer of 2014. They value honesty, integrity, accountability and respect.
Advantages: Rentific's basic service is free, and they have a per transaction fee of just $3 dollars. They allow partial payments, and you can set up auto payments with them as well. They are also SMS text enabled, so your tenants can receive reminders of upcoming due dates and make payments via text. Lastly, they now offer a maintenance request service that is included free with your subscription.
Disadvantages: The 3-4-day bank transfer period is the largest window out of all the services. They also only accept ACH payments and offer no tenant screening or credit bureau reporting, though their website says it's in the works.
eRentPayment formed right around the time high-speed internet became mainstream in 2004. The company is focused on growing their business one customer at a time, with an emphasis on flexibility, convenience, and customer service.
Advantages: eRentPayment has no monthly fee and a relatively cheap processing fee, at just $3 in their standard package ($2 for weekly, bi-weekly, monthly or bi-monthly recurring payments). The plus package allows for $10 for up to five transactions and any transactions over five at $1 each. They allow landlords to block or accept partial payments, tenant screening, and credit bureau reporting. Lastly, they can receive payments from ACH, eCheck, credit and debit cards.
Disadvantages: They require 2-3 business days per transfer and is the only company on the list without an option to set up auto payments.
If you want to take some of the stress out of rent collection, we highly suggest investing in an online rent collecting service like the ones mentioned above. It'll save you time, money, and make it easier for your tenants to pay their rent on time.