What's the value of a degree? It's tough to say exactly, but it certainly isn't what it once was.
The message of necessity with regard to college is reinforced from the first day of elementary school to high school graduation. You must go to college. Without a college degree, you'll be in trouble. It still holds true that college graduates typically have more earning power than those who don't graduate college, but the rate of return on a degree isn't what it once was.
Nationally, the cost of education is rising far faster than the expected salary of college graduates. Hear recent grads complaining about their loans? The complaints are only going to get louder and extend longer given the current trend.
No one denies that tuition and fees have exploded over the past decade. Every state is fighting the same battle.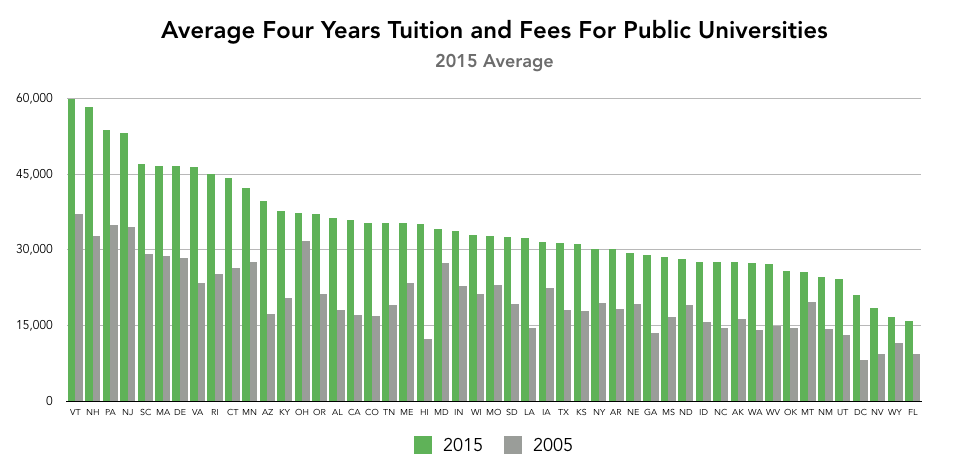 We analyzed tuition and fees at four-year public schools nationally against the median salary for college graduates and found a troubling trend. Students are paying far more for their degrees without the same rate of return on salary once they graduate. We found the percentage of tuition and fees against the expected salary after graduation in 2005 and then compared it to 2015. Below is a reflection of the change in the percentage of tuition and fees over that 10-year span.

Huge Tuition Increases, Little Salary Growth
Hawaii, Georgia, Arizona, Nevada, and California have seen the largest increase in the rate of yearly tuition to the expected salary for graduates from 2005 to 2015. On average across these five states, there has been over 100% growth in terms of how much a student spends for four years of college vs. what they can expect to make once they graduate.
Students in Hawaii, Georgia, Arizona, Nevada, and California are spending an average of over $31,000 in tuition and fees alone to earn just under $50,000. In 2005, the numbers across these states were an average of just under $14,000 in tuition and fees to earn just over $44,000. While tuition and fees have more than doubled, the expected salary has increased less than 15%.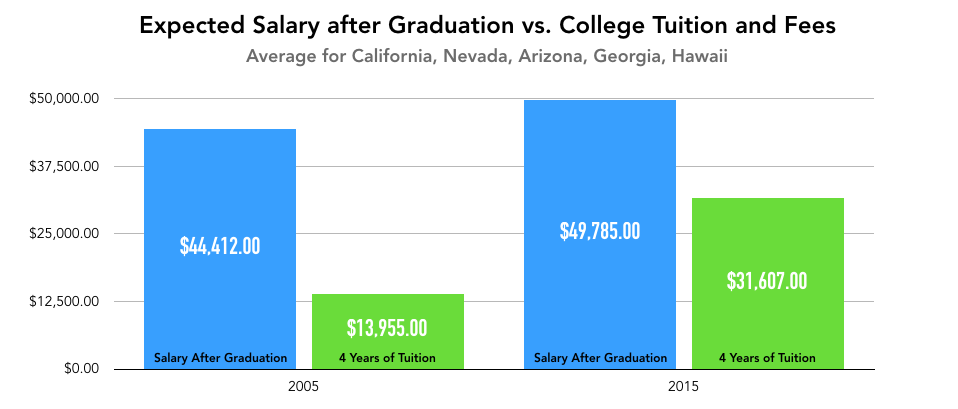 Ohio, Montana, Maryland, Wyoming and North Dakota have seen the smallest increases in rate of tuition to expected graduate salary.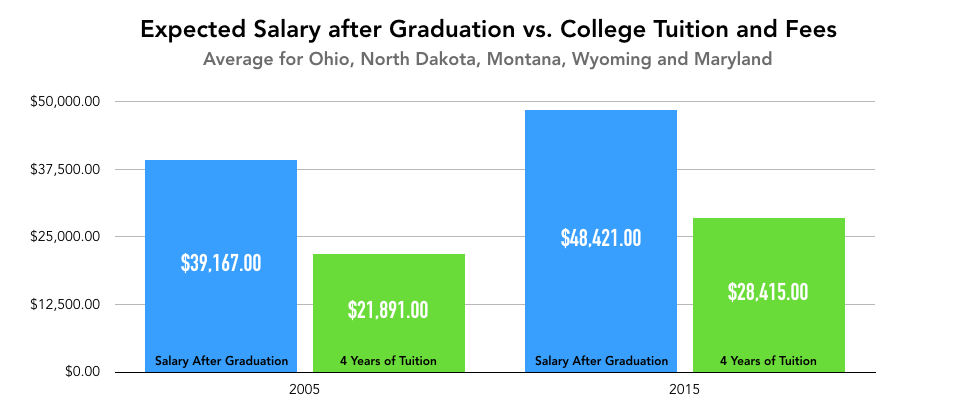 What's the gap in annual tuition vs. what someone can expect for a salary out of college between a school in Illinois vs. a school in Ohio? Steep. Tuition plus fees at the University of Illinois at Urbana-Champaign have increased from $8,634 to $17,086 annually, whereas tuition plus fees at The Ohio State University have increased from $8,082 to $10,037 annually.
Using Public Funds Wisely
Why is tuition on the rise?
In some instances, declining public funding has led to tuition hikes. The five states that saw the biggest increase in four years of tuition as a percentage of expected salary had modest 13.8% increases in state funding for public higher education from 2005 to 2015. On the flip side, the five states that had the best ratios of tuition to expected salary had 29.9% increases in money reserved for higher public education over the same time frame.
But funding isn't a cure all. Some states have increased budgets in the past 10 years and still, students have seen tuition spike at the individual universities.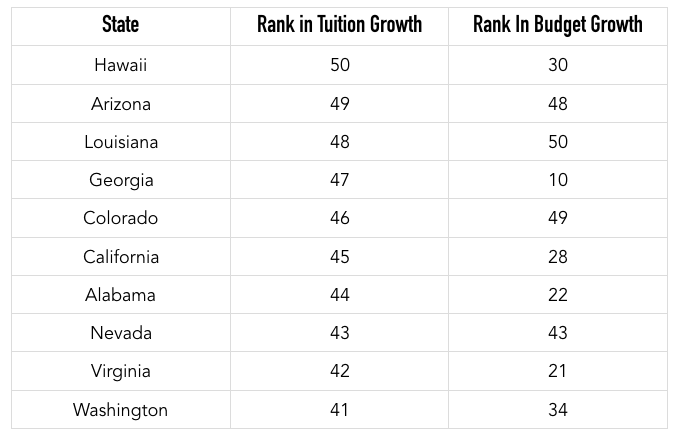 Without proper oversight, schools could misapply funds on administrative costs and benefit packages that do little to help students. Illinois consistently pours a lot into publicly funded higher education. But students attending Illinois public schools have seen a 62% jump in tuition as a percentage of salary. In Illinois, it's where that higher education funding is going that's causing issues, at least according to Hilary Gowins at The Huffington Post.
"At Illinois' public universities, more state money flows to retirements than to classrooms and operations," Gowins writes. "While pension costs made up 20 percent of the budget just 10 years ago, 53 percent of the state's $4.1 billion higher-education budget now goes toward funding employee pensions."