Congrats; you did it! You've been accepted to more than one college, but now comes the hard part. Choosing where you're going to go attend college is one of the biggest decisions you'll make in your lifetime, and choosing where you're going to live during those unforgettable four (maybe five) years comes in at a close second. While a lot of freshmen go for the dorm life their first year, the majority of students who have done their time living on campus anxiously anticipate the day when they can live in their very first off-campus apartment or house. Sure, staying on campus has its (slim) advantages, but a place off-campus comes with some unbeatable perks and, for the most part, is cheaper than living on campus in the dorms. Time to say goodbye to restrictions and rules and hello to your new-found freedom!
With that being said, more freedom comes with more responsibility. Sure, living in a new off-campus apartment usually runs cheaper than on-campus living, but that still doesn't mean it's "cheap" by any means. The average cost of a four-year degree is now over $122,000 (gasp), and the average cost of living expenses can run students an additional $11,000-$17,000 yearly (double gasp). On top of the monthly rent, don't forget you'll need to factor in additional costs for utilities, groceries, parking, gas, etc. Looking at these numbers might make you feel as if you're going to be paying off college for the rest of your life, but don't worry! There are plenty of ways to help keep your costs low, even if your ideal college diploma comes from a prestigious university in a large city.
When you choose a college, you're choosing your new home for the next four years—and also the rent prices that come with it. To help students become more aware of varied living costs from campus to campus across the nation, we've created two lists of the most expensive and most affordable college campuses to live off-campus. How did we do it? We took the campuses listed on College Pads and calculated the average rent in the month of June to determine the most and least affordable campuses.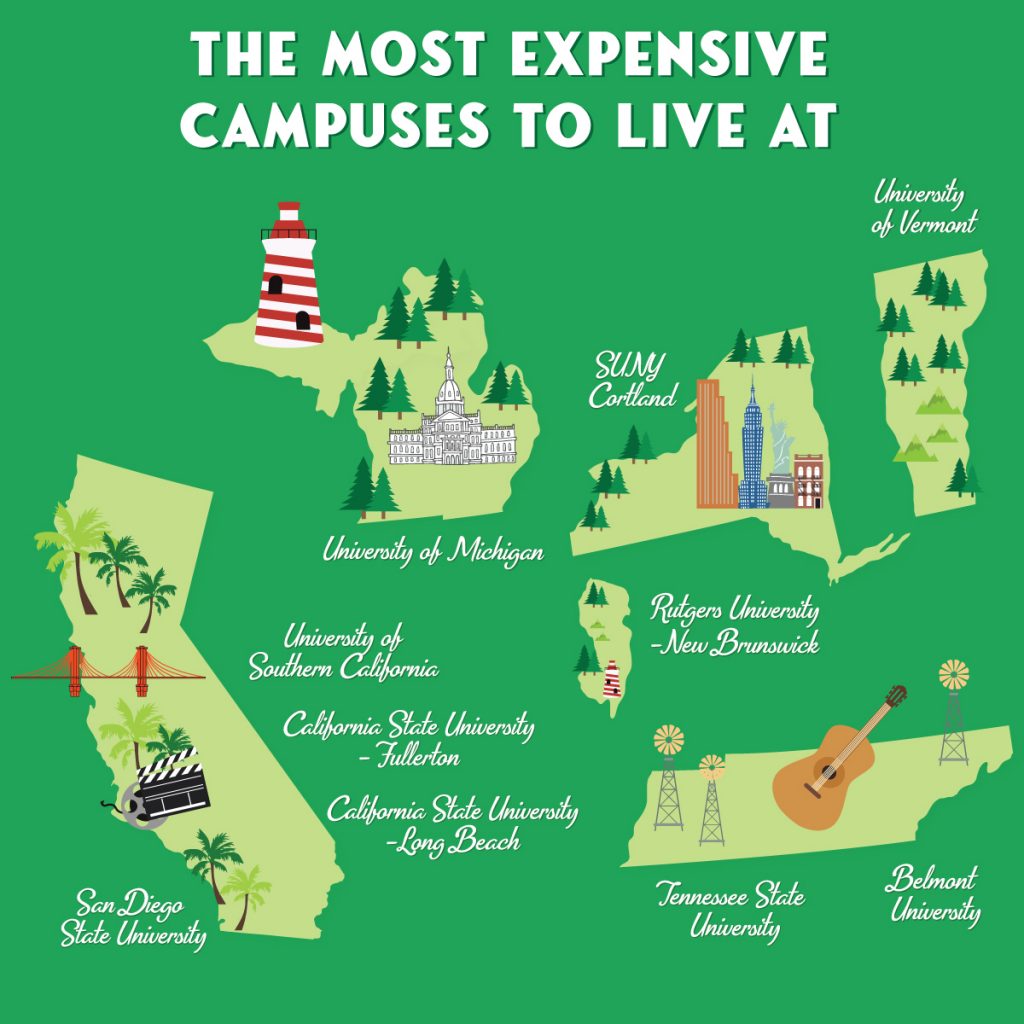 Most Expensive Colleges
Tennessee State University
California State University-Fullerton
Rutgers University-New Brunswick
California State University-Long Beach
Belmont University
University of Southern California 
University of Michigan  
SUNY Cortland
San Diego State University
University of Vermont
From seaside beach towns like Long Beach, California, to massive metropolitan cities like Los Angeles, rent prices in some college towns can be exorbitant. If you factor in geographic location, university status, enrollment numbers, and city-wide vacancy rates, there are a myriad of reasons why these schools are ranked as the most expensive college campuses nationwide.
As one could guess, colleges located in big cities like Belmont University in Nashville and populous states like New York are at the top of the expense pack. Cities offer students a more diverse array of things to do and places to see, from dining options to sports, entertainment, and more. Larger cities also offer students a variety of employment opportunities pre and post-graduation, and because they are so highly desirable, they become more expensive places to live.
In big cities, the rental market becomes competitive due to a mass amount of people being contained to one area. This means that students looking in larger cities are competing for affordable rental options with thousands of other students, young professionals, families, and more. Size, however, is not all that matters. Vacancy rates play a huge role in determining a city's rental prices. If a city is densely populated and has a low vacancy rate, then housing around campus will skyrocket, and vice versa. For example, students looking for off-campus apartments near Long Beach will find that, compared to last year, rent prices have increased as their vacancy rate has fallen to a low 3.6%. The national average is currently 6.6%.
On the flip side, even in smaller markets, proximity to a highly-regarded school comes with a steep price tag. Typically, the higher the cost of getting your degree, the higher the price you will pay to live there. The majority of these schools are located on the east coast and west coasts, where real estate is worth more and the cost of living is higher. So, for example, apartments near Cal State Fullerton are going to be a lot more pricey than apartments near SIU in the Midwest.
University enrollment is another factor that plays a role in campus area rent prices. While enrollment has dropped nationally by nearly 2%, schools like The University of Michigan and Rutgers-New Brunswick have increased their enrollment by 10.23% and 13%, respectively. With these booming numbers comes more students who will be in need of housing, which increases demand and competition for off-campus housing near campus. When the demand outweighs the supply, rent prices will inevitably increase. Local landlords know they can set the rent prices higher because so many students want to be there, but that's the price you pay to go to a prominent, sought after school.
If bright lights and big rent checks aren't for you, let's dive into the most affordable college campuses.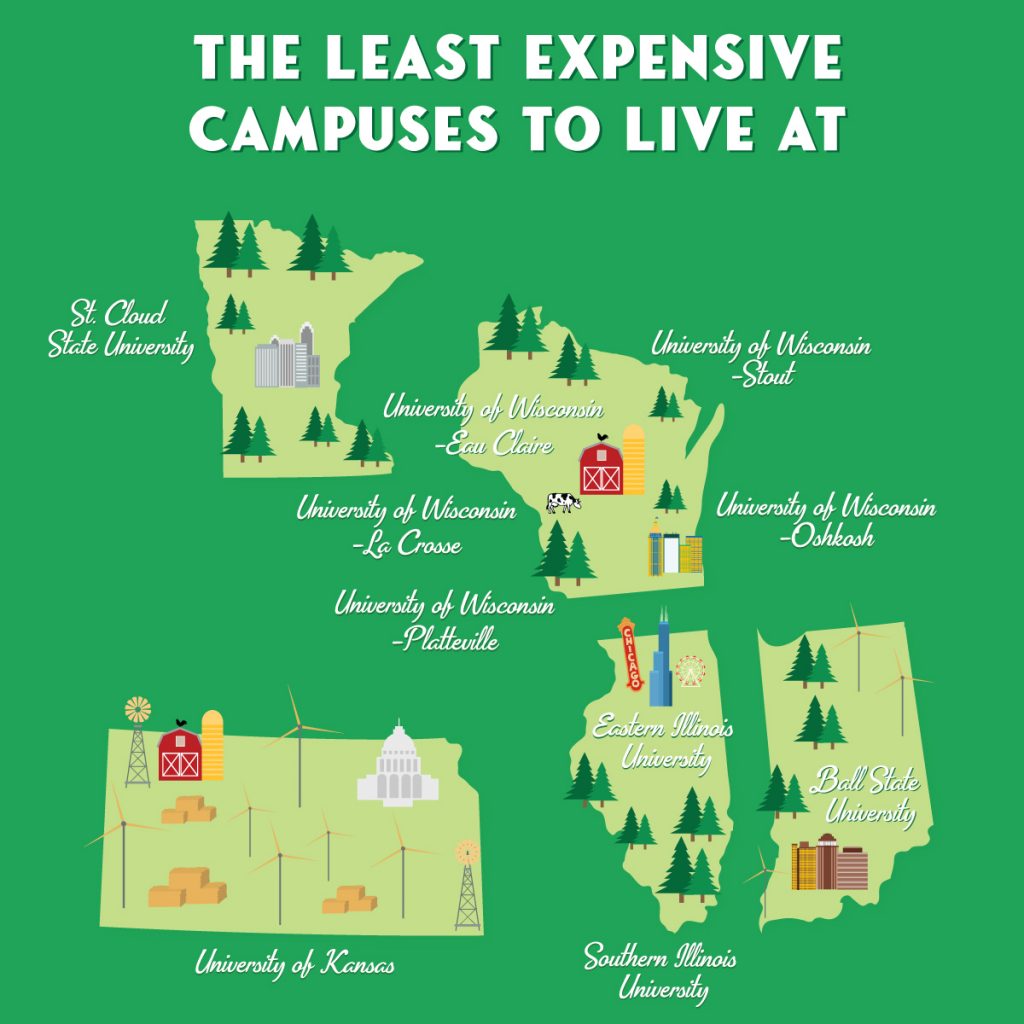 Most Affordable Colleges
Southern Illinois University
University of Wisconsin-Stout
St. Cloud State University
University of Wisconsin-Eau Claire
University of Wisconsin-Platteville
University of Wisconsin-Oshkosh
University of Kansas
University of Wisconsin-La Crosse
Eastern Illinois University
Ball State University
While a lower cost of living doesn't always equal a higher quality of life, it can certainly make a difference for "broke" college students looking to stretch their paychecks and take out as little student loans as possible. If you choose an affordable college, you're less likely to be burdened with high student debt. Borrowing less now will leave you with more money later, and while students have said price isn't always a factor when selecting their school, it's becoming a trend that students are now choosing more affordable campuses and living costs over years of student debt.
Looking at our Most Affordable list, you will notice that these Universities are located within a narrow section of the country; the Midwest. This opposite tendency can also be seen for the most expensive cities, in which the majority are situated along the east and west coasts.
Coastal cities like San Diego are limited in expansion due to barriers like water and land jurisdictions. When housing inventory is low, prices are high. Midwest cities, like Oshkosh, WI, don't often run into the same issues. For the most part, development in these towns is better able to grow with increased population demands, making rent prices more affordable.
When it comes time to pick your University, evaluate what your ideal major and career path will be upon graduation. You don't want to spend $500,000 getting a degree only to end up with a job that pays $50,000 a year. This way, you're less likely to be in debt for a longer period of time!
Often times, choosing an in-state, public university is much cheaper than deciding to get that degree out of state or at a private college. As reported by CollegeData, the average yearly cost of in-state tuition is just over $10,000, while out-of-state residents will pay nearly $27,000. Private colleges are even higher at almost $37,000 per year.
For the universities on our list, in-state tuition is on the cheaper end with schools like UW-Platteville, which averages less than $7,500 per year. The student population at these affordable universities is also made up of predominantly in-state residents. For example, less than 8% of students at Eastern Illinois University come from out of state.
When moving to another city, if you don't have family and friends to help cover expenses, it is likely you will need to take out student loans and/or get a job. Becoming knowledgeable about how much it costs to live in a city, and why, will assist you in your decision to move. This isn't to say that going out of state is always the lessor of the two options. If your heart is set on moving out of state to attend a prestigious university, know that these students who are looking to borrow large amounts of money will typically graduate and have higher incomes than other students nationally, so, hopefully, you'll be able to pay back those loans a little more quickly!
Checking out all of your off-campus housing options and considering your income-to-rent ratio, especially if you're planning to stay long-term, will help keep you on track.