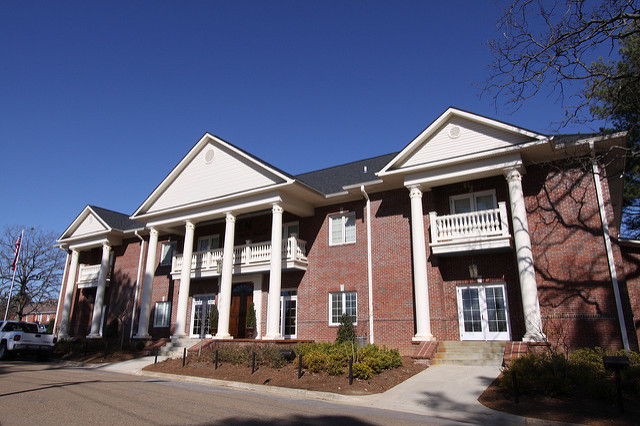 We've all seen movies like Neighbors or the iconic Animal House that instantly has us thinking that the only things sororities and fraternities do are throw wild house parties for hundreds of students to attend. Visions of drunk college kids chugging beers and kids swimming in pools while the DJ spins music loud enough for neighbors down the block to hear dance in our heads, however, these movies aren't entirely factual. Duh.
The Greek community is way more than what movies have us picturing in our heads. To some universities, maybe, Greek life isn't much at all, while on other campuses Greek Life plays an integral role in not just a student's college years but for their entire life. Going Greek is a part of being something bigger than yourself. Your college years build memories that last a lifetime. Belonging in the Greek community gives undergraduates an unforgettable experience where students can work with their brothers and sisters to form lasting impressions on one another and the community. Not for just now, but for the future.
Here at College Pads, we decided to create a list of our top 20 picks for Best Greek Life On Campus. How'd we do it? We took the top Greek lists from Niche, The Princeton Review, University Primetime, and Best College Reviews and compiled a list of all of the universities mentioned in those articles. From that list, we only used schools that had over 10,000 students where at least 15% of the student body were Greek members; then we averaged those out to create our points system.
Best Greek Life Colleges – 2021 Greek Rankings
20. University of Virginia
Our Score: 104
Over 4,600 students at The University of Virginia are members of one of the 63 different sorority and fraternity chapters, making up nearly 35 percent of the entire student body. With a large focus on philanthropy, fraternities and sororities dedicate time to raising money for foundations like Make-A-Wish, the Boys and Girls Club, and the Charlottesville Mental Health Association. In the last academic year, members collectively raised over 376,000 for charity and completed 84,000 hours of community service.
19. Penn State
Our Score: 110
As one of the largest Greek communities in North America, with 82 fraternity and sorority chapters, Penn State Greek members are committed to the basic principles of fraternity and sorority membership which are: academic achievement, service and philanthropy, leadership, brotherhood & sisterhood, social, and Alumni Involvement. In 2012 alone, the Penn State sororities and fraternities completed over 95,000 hours of community service and raised 2.1 million dollars for philanthropy endeavors. Throughout the year, members host various events to raise money.
The Panhellenic Dance Marathon, known as THON, has grown to be the largest student-run philanthropy in the world! With 16,000 student volunteers and 700 dancers, THON has raised over 180 million dollars for The Four Diamonds Fund that is at the Children's Hospital of the Hershey Medical Center to help the fight against pediatric cancer.
18. University of Michigan-Ann Arbor
Our Score: 116
The University of Michigan, in Ann Arbor Michigan, recognizes over 1,200 student organizations on campus, 50 of those being sorority and fraternity chapters. As "one of the oldest, largest, and strongest Greek communities in the nation," around 12 percent of the entire student population partakes in Greek Life on campus. Forming friendships, as well as, performing well academically, gaining a sense of leadership, service, and giving back to the community are only some core values held by members.
17. Auburn University
Our Score: 129
With a student body of about 25,000, Auburn University is one of Alabama's largest universities. Known for their philanthropic endeavors, the 52 fraternity and sororities chapters donate to a vast amount of charitable organizations annually.
The Greek Community gives to both state and nationwide to charitable organizations like Adopt a School, Alabama Sheriffs Youth Ranches, East Alabama Food Bank, Habitat for Humanity, March of Dimes, and Toys for Tots, just to name a few. Service to the community is a staple in Greek Life in the Auburn community, and students work hard to give back. In recent years, the Greek community has done over 91,000 hours of service and was able to donate over 700,000 dollars.
16. San Diego State University
Our Score: 139
Forty-four recognized sororities and fraternities with over 3,600 students make up the Greek Community at San Diego State University. With their core values like academic achievement, alumni and family relations, chapter management, community relations, community wellness, diversity education and inclusion, leadership education and development, and philanthropy and service, the Greek Community at SDSU aims to create an environment with a purpose of growth as an individual.
Each chapter is unique to one another and built on different values and ethics, but they each share the common goals of getting involved and contributing to the SDSU campus and community. One primary goal is to create well-prepared leaders and the Greek Community strives to abide by the San Diego State University's tagline, "Leadership Starts Here."
15. University of Delaware
Our Score: 141
The University of Delaware, located in Newark, has a population of just over 23,000 students. Of these students, almost 18,000 are undergraduates and over 26 percent of the undergraduate population are Greek members. The University of Delaware Greek community is comprised of 47 different chapters that are co-curricular, social, cultural, or honors fraternity and sororities that belong to four separate councils. With an overall vision that the community "will engage undergraduate students to develop a community of individuals and organizations that make values, congruent decisions, and live out their ritual and organizational values," Greeks at UD participate in university events, community service, diversity and professional education, and philanthropy events.
During the past Spring 2020 semester, Greeks at UD donated $628,763 and performed over 3,000 hours of community service. For the last ten years, Greek members have also surpassed the university-wide GPA average!
14. Iowa State University
Our Score: 143
This year, the Iowa State University's Greek community celebrated their 143rd anniversary of existence! Over 4,000 members, of both fraternities and sororities, are involved in one of 60 different recognized chapters at ISU. The Greek Community at Iowa State University offers countless ways for students to be involved socially and academically while striving to give back to the community with their philanthropic efforts and service. Recognizing that future employers want to see more than a graduation degree, getting involved in chapter leadership roles is heavily encouraged in their Greek Life, as well as, attending campus-wide events.
In the 2018-19 school year, members performed over 54,000 hours of community service. The Greek Community also donated $560,000 to local and national organizations. Some organizations include the Children's Miracle Network, Special Olympics of Iowa, local shelters, emergency resident projects, and many more. In efforts to raise money for the community, events like Iowa State's Dance Marathon, the Polar Bear Plunge, and Greek Gives Back are held.
13. Purdue University
Our Score: 152
Home to the third-largest Greek Community in the United States, Purdue University's West Lafayette campus has played a vital role for fraternities and sororities for over a century. At Purdue, around 20% of the undergraduate population, and many of the most esteemed graduates are enrolled in one of the 80 different Greek organizations.
Providing " a meaningful co-curricular experience through academic support, leadership development, civic engagement and organizational excellence" is the mission statement amongst the Purdue Greeks. In the past, the 5,000 Greek members raised $428,513.01 in donations and performed over 32,000 hours of service to the community all while still maintaining a cumulative grade point average of 3.09.
Annually, Purdue Day is held to "build a better, stronger, more affordable Purdue." For one day, current students, family, friends, faculty, and alumni come together and participate in an online rivalry to fundraise for their favorite campus, program, or student organization.
12. University of Oklahoma
Our Score: 169
Greek Life on the University of Oklahoma campus has played an integral part of student life since the early 1900s. Each year, the sorority and fraternity community continues to grow, and to this day more than 6,000 students have chosen to be part of the University of Oklahoma Greek community. Over 29 percent of the entire campus population, many being from out of state or international students belongs to one of the 58 active chapters that are part of one of the five Greek councils.
With a goal to help students personally grow and academically excel, the fraternities and sororities organized and participated in 93 programs and sessions for students. Members of the UO Greek community hold over 2,000 leadership positions throughout campus, and the average Greek GPA is nearly 3.2. In the past year alone the UO Greeks raised over $750,000 for different philanthropies and gave over 175,000 hours of their time to community service.
11. Indiana University-Bloomington
Our Score: 170
For over 172 years, several different fraternities and sororities have partnered with Indiana University in Bloomington. Staying true to their core values, Indiana University has grown to have over 70 different Greek chapters that are comprised of over 8,000 students, which is about 18 percent of the entire student body.
At IU, "Greek organizations seek to provide members with opportunities to lead, serve, build positive relationships, and grow intellectually." Every year, each chapter partakes in community service and philanthropy projects. Greeks at UIUC hold fundraisers for foundations like the Heart Fund and American Cancer Society. In addition to financial contributions, IU Greeks take time for visiting local nursing homes, skating with children, helping to paint public buildings and work with Big Brothers and Big Sisters.
10. University of Arkansas
Our Score: 179
This past year at the University of Arkansas, Greek membership hit an all-time high of 6,033 members with forty percent of the incoming freshman class joining a chapter! Overall, at the U of A, 31 percent of the student body are enrolled in the Greek community. With an aim for a positive college experience, U of A Greek members are focused on the principles of "scholarship, service, friendship, cultural appreciation, and brotherhood/sisterhood." The goal is creating life-long leaders; the mission is to promote academic achievement, advocate and actively promote a diverse and inclusive community, "develop and maintain both internal and external relationships between university, fraternal organization, alumni, and community."
Each year, Greek organizations at the University of Arkansas raise $750,000 for a diverse group of charities and conduct thousands of hours of community service, all while maintaining an average GPA of 3.5.
9. University of Illinois Urbana-Champaign
Our Score: 179
The Greek community at the University of Illinois Urbana-Champaign set a goal of establishing and advising "student programs, training and skill development in the areas of leadership, safety, wellness, personal growth, inclusion, cultural competence, service, civic engagement, and membership recruitment." Striving to fulfill these goals, today, are just under 7,000 students that are part of the IU Greek community. Just under 20% of IU undergraduate students make up the 90 chapters on campus.
Many of the chapters have an affiliation with cultural, academic, or religious institutions. Although, these organizations are exclusive and all students are encouraged to join in on what interests them! Greeks at IU have had higher a higher GPA average than the rest of the undergraduate class for 18 years straight.
Many Greeks are also involved in more than two on-campus clubs and organizations, and thousands of Greek members have leadership roles in these agencies. Each of the chapters also participates in countless activities to better themselves academically, professionally, and personally. Students also help to raise thousands of dollars each year for their selected philanthropies and free up their time to volunteer in the community.
8. University of Southern California
Our Score: 185
At the University of Southern California, in Los Angeles, students can opt to participate in over 700 different on-campus clubs and organizations. More than 6,300 students, that's nearly 29% of the student population, choose to be a part of the USC Greek Life.
Although each of the more than 60 Greek chapters is unique, they all have the same mission, which is "empowering students to transform the world." From this mission, three goals to support, educate, and engage where created for students to abide by. Wellness, academics, leadership, service and community have been the guidelines for USC frats and sororities since the founding of Greek Life at USC in 1889.
A base for all USC Greeks is community service. Every chapter is partnered with a charity of their choice that they support throughout the year. Students also donate much of their time to clean parks, collect food for shelters, and tutor for local schools and organizations. To raise both funds and awareness, many events are held like dinners, sports events, and bake sales.
7. University of Iowa
Our Score: 186
Greek life has been apart of the University of Iowa for 153 years! Members of the Greek community, over 3,600 to be exact, at Iowa make-up just under 20% of the entire undergraduate student population. Four Governing Councils make up the 49 fraternity and sorority chapters, two of which are international organizations founded at the university, whose mission is "to further the bond within the Fraternity and Sorority Community by developing a better understanding of each other while serving others and achieving academic excellence."
Known for their academic excellence, students at Iowa that are part of the Greek community generally have had a higher GPA than the total undergraduate GPA. The fraternities and sororities at the University of Iowa have collectively performed over 34,000 hours of non-profit community service in the last year. In addition to service, every chapter holds annual events to raise money for both local Iowa City charities and national philanthropies. This past year, Greek members were able to donate over $1,400,000!
6. Florida State University
Our Score: 186
There are hundreds of clubs to join at Florida State University, but the largest of all organizations is the Greek community. For more than 100 years, the community has emphasized four core principles of "scholarship, service, leadership, and sisterhood/brotherhood," and over 5,800 students, who come from diverse backgrounds from all around the world, make up the 57 different sorority and fraternity chapters at Florida State.
The FSU Greek community continuously gives back to the community. Each chapter has philanthropic and community service activities that they participate in like Relay for Life and the Dance Marathon. FSU Greeks help to raise thousands of dollars each year for their selected philanthropies and free up their time to volunteer in the community. In a previous school year (prior to Covid), members have given 60,000 hours of their time to volunteer and donated over 850,000 to several charities.
5. University of Missouri
Our Score: 188
At the University of Missouri, commonly referred to as Mizzou, the Greek community is made up of 7,500 students, just above 26% of the undergraduate population. In efforts to provide students with a support system and both academic and personal growth, the 58 different Greek chapters develop within their members with a community that aims to teach the "balance of leadership, academics, philanthropy/service, and social opportunities."
Philanthropy, one of the four pillars of Greek life, is a huge focus for Greeks at Mizzou. Each of the different chapters holds events during the year to fundraise for both local and national beneficiaries, raising thousands upon thousands of dollars annually. Some of these organization that Mizzou Greeks were able to help contribute funds to were the Children's Miracle Network, the Salvation Army, and the Special Olympics. Also, Greeks dedicate their time to volunteer and participate in events such as Penny Wars, Highway Clean Up, and the Jonathan P. Hicks Scholarship Fund.
4. University of Alabama
Our Score: 198
Beginning in the Fall of 2011, The University of Alabama has held the title of having the largest Greek community membership total in the United States. More than 11,000 student members who belong to one of the 67 different fraternity and sorority Greek chapters, represent 35 percent of the University of Alabama student body. In efforts to increase diversity amongst the various chapters, UA created an action plan. Over a three-year span were able to diversify by 91.5%.
The chapters range in size from 3 members to 471 members, where students seize leadership roles and participate in service activities across the community and campus. The organizations that Greeks support include local and national non-profits (like Habitat for Humanity).
3. Syracuse University
Our Score: 248
Ever since the initiation of the first fraternities and sororities on the Syracuse University campus in 1871, Greek Life has played a key role in Syracuse University. The Greek community has grown to have 40 recognized chapters, and six governing councils, that consist of over 3,500 students who share the values of diversity, growth, leadership, service, and scholarship with efforts to improve themselves, Syracuse University, and the community.
The Syracuse University students that belong to a fraternity or sorority aim to help enhance the community and build ongoing connections. The Syracuse Greek members do a lot for the community like throwing events to raise thousands of dollars for their selected philanthropies, sponsoring activities, and participating in community service projects. Some students have taken the time to read to children, tutor younger students, help high schoolers with college applications, and work on environmental projects for the community and university.
2. Miami University (Ohio)
Our Score: 251
The Miami University, located in Oxford, Ohio has a Greek member population that represents nearly 22 percent of the entire student population on campus that have been "contributing to campus tradition, success, and pride." Miami University has been nicknamed the "Mother of Fraternities" due to the number of fraternities that originated on campus.
Beta Theta Pi, Phi Delta Theta, Sigma Chi, and Phi Kappa Tau are all chapters that originated at Miami and whose roots date back to 1839. Although, the first fraternity at Miami began in 1832. Today, Miami University students can join over 46 different self-governed Greek chapters on three Greek councils whose vision is to "develop a Model Fraternity and Sorority Community that achieves national recognition for its commitment to intellectual achievement, leadership, personal growth and service to the community."
Miami Greeks were also able to help sponsor and host service events, philanthropies, sporting events, and parties. A past blood drive donations helped 288 lives, care packages were created for Bake Me Home, and hundreds of miles were walked for the American Red Cross. In 20
1. University of Mississippi
Our Score: 285
Coming in as number one on our list is the University of Mississippi, more commonly known as Ole Miss. Recognized for the Grove, their massive game day tailgating feed, and their Hotty Toddy football cheer, students attending the University of Mississippi are very proud of their campus life and more than 6,500 students are members of the Ole Miss Greek community, making it the of the largest organizations on campus. Members are part of 35 different chapters, some with over 400 members, representing one-third of the undergraduate student body.
Greek Life at Ole Miss plays a key role for a quality experience and the first fraternity founded in the South, the Rainbow Fraternity, was founded here in 1848. Beyond maintaining a higher GPA average, many of the Greek members have leadership roles in student government and various organizations. Ole Miss Greeks work hard to "service the university community, the community-at-large, the members of the sorority and the nations of the world." Their philanthropic efforts help to raise awareness and provide more than $300,000 in donations annually.
Members also spend much of their time giving back to the community through volunteering for various causes like neighborhood cleanups, tutoring, and visiting nursing homes. By adding to the University of Mississippi mission, fraternities and sororities at Ole Miss can "promote an experience that is life-changing, powerful and transformative."
Have a school that you think that should have made it to the list? Comment below!