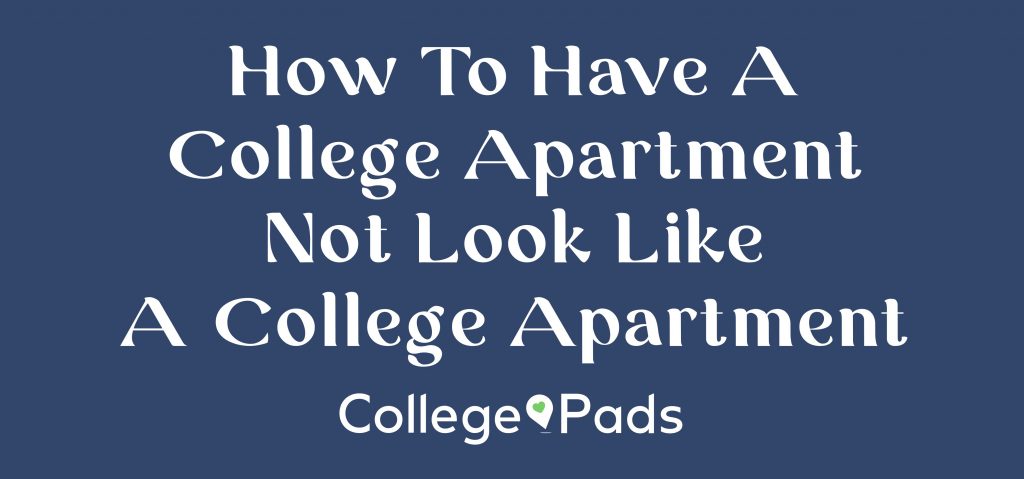 Off-campus housing tends to be a more budget-friendly living option for students than living on-campus. Not only that, but when you choose to live in an apartment or house off-campus, you'll have more space and freedom than when you lived in the dorms. The drawback to college apartments and houses is that they can be a little run down – by that, we mean that the walls have seen some things. But hey, living in a beat-up rental is kind of a part of the college experience.
Just because you can't afford to rent a swanky apartment or house near campus doesn't mean that you can't find ways to make your rental your own. Without further adieu, here are a few tips on ways you can make your college apartment not look like a college apartment.
Tip #1: Buy a plant (or two)

Plants have a way of adding a touch of style and tranquility to any room. Houseplants are also good for student renters looking to improve the air quality of their place. You can choose to hang plants from hooks on the ceiling, place them in the windowsill, have them sit on a coffee table, or have them stand alone in corners to get rid of negative space.
If you have the opposite of a green thumb, you can always just opt for fake plants for the same effect.
---
Tip #2: Throw down a rug


Rugs add a certain amount of coziness to any room. On top of that, rugs are a good option for student renters looking to cover up ugly flooring. Not sure what kind of rug to get? You can stick to something neutral if you plan to add pops of color in other areas of the room, or because you don't want the rug to be the focal point of the room. If you want to get wild, you can get a colorful rug or a patterned rug to make a statement.
---
Tip #3: Add a mirror

If you think mirrors only belong in the bathroom, you're mistaken. You can make a small room look larger by leaning a floor-length mirror against a bare wall. If you don't have great natural lighting, try adding mirrors on the walls facing windows or doors to reflect the light and brighten the room.
---
Tip #4: Put the art in apARTment

Wall art is one of the easiest ways to add your personal stamp to your college rental. You can use it to set off the vibe of the room, while also covering up unsightly rental walls.
Not sure what kind of wall art to get? Before you choose to do the basic thing and buy a flag or tapestry, look into all your options!
---
Tip #5: Hide your *crappy* couch/futon/bed

Couches, futons, and beds are some of the largest pieces of furniture you'll have in your place. So, it goes to reason that if your couch, futon, or bed, are unsightly – the room that those furniture items will be unsightly.

Unfortunately, student renters don't normally have the budget to buy new. The solution here is to hide your crappy furniture with throw blankets & pillows. Throw pillows & blankets are a budget-friendly alternative to purchasing new, and they're a great way to add pops of color & personality to the room.
Do you have college rental decorating tips that you think we should include? Comment below what it is and why we should include it!
For more college apartment decorating tips, check out our blog 5 Decorating Ideas here.