You've been there before: there's ten minutes to get to class at UWM and you're looking for free parking. And why wouldn't you? If you paid for parking five days a week for four years, it'd cost around $10,000. The problem is, finding free parking at UW Milwaukee is pretty much like finding a unicorn on June 34th.
The good news is that this isn't a new problem. Over the years, students have researched everything from secret spots to police ticketing patterns.
They've figured out the best places to park, as well as what not to do when parking.  A lot of students even base their entire UWM off-campus housing process around how quickly they can walk to campus. We've gathered some of their secrets and shared them here.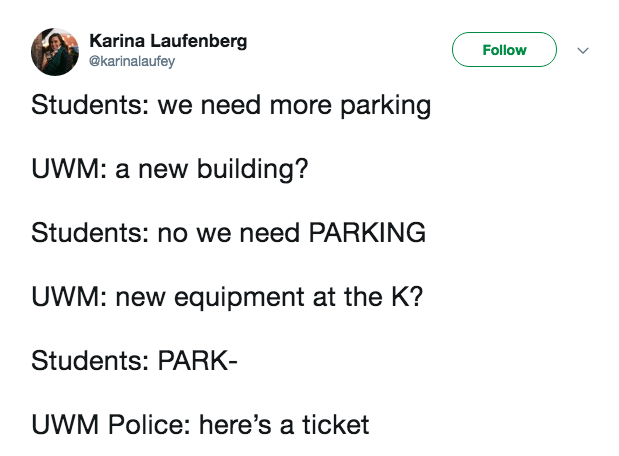 Where To Park:
There are several popular areas around UWM's campus that offer free, unmetered parking:
Lincoln Memorial Drive: it's a bit of a walk, but it's a long stretch of free parking.

Prospect Avenue: It's free, but it's best to avoid this street unless it's a

very

slow day.

There's a

UPARK lot on Capital and Humboldt

that you can park for free at if you register your car.

Bartlett Avenue, Edgewood Avenue and Kenwood Boulevard: these streets often have time-restricted parking zones, but students have reported avoiding tickets for years at a time on these roads.

Maryland Avenue: There's a stretch of three hour parking spaces here. Abuse it!

The Sandburg Garage: Our sketchiest option, but it's worth the gamble. You're supposed to register for this lot, but students get away with parking here for free all the time. Don't tell administration!
What Not To Do:
Here are some corners you don't want to cut when parking at UWM:
Don't assume police won't ticket you at the meter. Cops have been known to ticket cars with ten minutes left on the meter in the past.

Don't forget about chalking. You can easily receive a parking ticket on a free two-hour parking zone if you've overstayed your welcome. We recommend checking your tires frequently and moving your car every once in awhile to avoid paying up. Also, don't tell anyone, but you could just move your car a few inches forward so that the chalk is hidden on the other side of the tire. Is it ethical? What are ethics, really? It works!

Don't assume you have to drive! If you can bike, take a shuttle or carpool, do it. It'll save you money and heartache in the long run.
UWM Site Parking Tips:
Administration might be the enemy, but they do provide some valuable information about alternative transportation options. Here are some great resources:
The Milwaukee County Transit System:

Check out their

Bus Trip Planner

to find a route that works for you.

Bike Mapping & Rental:

There's a Milwaukee

Bike Distance Map

and a useful resource called

Routes and Trails

that provides bike routes and rental bike locations. UWM students can purchase a

$20 Bublr bike annual pass

if they don't have a bike of their own.

ZimRide:

It's not Uber, but it'll get the job done for cheap. The UWM rideshare program,

ZimRide

, lets you search for a ride or offer one.
All of these options are covered in detail here. And remember: don't sweat parking too much. What's a few tickets when you're already being crushed under the weight of student loan debt?