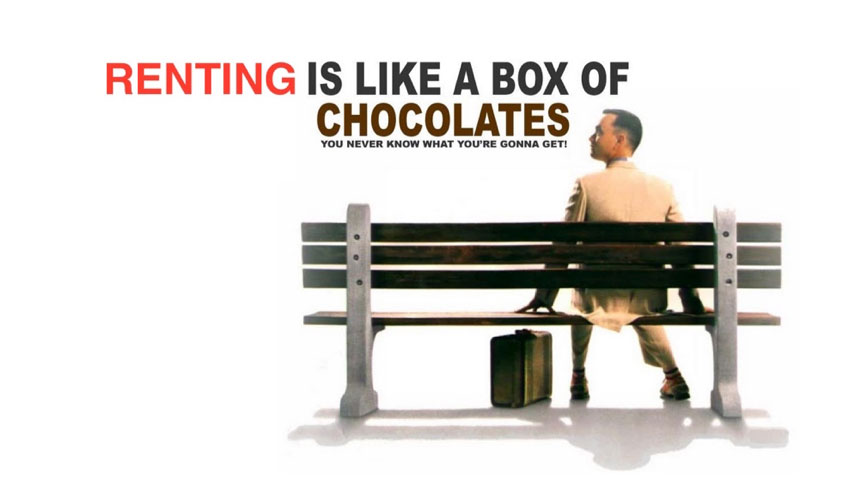 A wise man once said, "Renting is like a box of chocolates. You never know what you're gonna get." Or something like that. You may think you've found the perfect place when searching for OSU off-campus housing—the photos on the website seem bright and cheery, the rooms look huge, and all in all, it seems too good to be true. Months later, you arrive on move-in day, cardboard boxes in tow, only to realize that it was. You're greeted by a family of roaches, a mysterious smell, and the faint whisper of your conscience telling you you've made a huge mistake.
Thank goodness for Google, where anyone and everyone can post about their experiences, good or bad, for the world to see.
If you're looking for OSU apartments or Ohio State houses for rent but are wary of buyer's remorse, don't fret. We took the work out of the screening process and compiled a list of some of the highest rated places to rent near campus. We crawled through Google reviews and found the highest rated landlords with at least five reviews on Google.
Here are the top five apartments or property management companies in Columbus near Ohio State:
Average rating on Google: 4.6
Lennox Flats is an urban, luxury apartment community located in the Upper Arlington area. The apartments are available in one and two bedroom layouts and boast an impressive list of amenities, including a swimming pool, stainless steel appliances, in-unit laundry and more.
Past and current residents wrote over 38 reviews, the vast majority of them offering glowing recommendations. Tenants seem to love the Resident Manager, Jessica, as well as the Maintenance guy, Phil, for both their pleasant demeanors and outstanding customer service. The apartments also seem to be well-maintained and in stellar condition.
Our favorite Google review:
"The apartments are fantastic. I love having a dishwasher, washer and dryer, and parking all for a better price than a lot of people I know who get none of that. Phil is the man, he is always so friendly and responds almost instantly to maintenance requests. Jessica in the office is extremely helpful. She was able to handle our special case with ease."
Average rating on Google: 4.1
Located only minutes from OSU, this apartment offers furnished two and four bedroom apartments fit for a king! In-unit washer dryers, beautiful custom finishes, and pet-friendly apartments make this place an ideal choice. Residents appreciate the safe, quiet, and convenient location and make frequent mention of the professional and responsive staff!
Our favorite Google review:
"I've been living at the king for 2 years now and couldn't be happier. it's the perfect neighborhood for graduate students and young professionals. Amy is also amazing she's always there to help and answer questions. Live in The king!!!!"
Average rating on Google: 4.0
Iuka Park Commons is an off-campus community for students at OSU, offering two bedroom apartments with off-street parking, central AC, and furnished options. According to residents, the price is pretty reasonable for the campus area. Also, the bedrooms are spacious, and management is helpful. The location is also a plus for many—close enough to campus but removed from the raucousness of the party scene.
Our favorite Google review:
"I lived at Iuka Park Commons for 3 years during my undergraduate college career and it was a great experience. The complex is very well priced for the campus area and, more importantly, the managing staff are great. Kerry Renner is a fantastic landlord and someone you never have to worry about. The apartment had a moderately large kitchen and the bedrooms are spacious…The location is a little far if you want to walk everywhere, but I liked being tucked away on 4th street; it's just far enough from 15th and off-campus proper to feel like you aren't surrounded by parties non-stop, and it is also close-enough to be just a few minutes from pretty much anywhere you'd want to go… This is a great place to live if you're a student looking for a good two bedroom at a fair price."
Average rating on Google: 3.9
The Quarry manages to maintain a pretty stellar 4.0 rating with over 70 reviews, which is incredibly rare for apartments. Its downtown location near a scenic 28-acre lake is a major selling point for residents. Many have reported the management is always helpful and friendly, often going above and beyond the call of duty, and maintenance is very responsive.
Our favorite Google review:
"I have had nothing short of a great experience living at The Quarry. I live in an apartment with a lake view and I wake up feeling like I am on vacation. The office staff at The Quarry has been helpful and friendly every time I have needed assistance. I have had to make maintenance requests a couple of times and they were resolved in a very timely manner, if not the day of. Working at Ohio State, my drive to work is very convenient and an uber downtown is very cheap. The Quarry is great for people who want to live close to downtown without all of the downtown traffic and chaos. I would 100% recommend The Quarry to a friend."
Average rating on Google: 4.5
It seems like Property Management companies don't usually get a lot of love from reviewers, but students at OSU students seem to be quite fond of Venice Properties. They were rated highest in overall performance in 2015-2016 by the Ohio State Renters Guide, and we can see why. Residents have reported that they take great care of their properties, and maintenance requests are usually taken care of before the day is over.
Our favorite Google review:
"Venice provided us with a quality off-campus living experience. They stayed out of our hair for the most part, and any issues we did have were very, very minor. They take great care of their properties. The best thing about them is they respond to maintenance requests extremely fast, usually in the same day. I can't see a larger company with more homes responding nearly as fast as they do. Overall, I would recommend Venice to anyone looking for an off-campus home." 
Average rating on Google: 3.6
Pella Co offers a wide selection of off-campus student housing for Ohio state students. Their portfolio extends to each corner of campus, and the surrounding area. Their reputation for fast friendly service has made them a favorite of the Ohio State student body for years.
Our favorite Google review:
"I've lived with Pella for 3 years. Never once did I have to hound then for maintenance. I call once and it's usually resolved within 24 hours. Everyone is super nice at the office. Parking for my building is reasonably priced."
Average rating on Google: 2.8
Inn-Town Homes and Apartments is one of Columbus, Ohio's oldest and most trusted real estate companies. Since 1969, Inn-Town Homes has provided OSU students with high-quality, secure apartment housing near The Ohio State University's main campus.
Their knowledgeable and well-trained leasing staff boasts over 40 years of experience in helping Ohio State students find the perfect college home. They offer student-friendly office hours, a convenient campus office location at 2104 Tuller St., and an eager staff available to assist students in their search.
Our favorite Google review:
"Inn Town is awesome! I highly recommend renting from ITH. I lived with ITH for years in college and recommend them to everyone on campus. Their customer service is amazing which a lot of these other campus companies lack. You can call them during normal biz hours and someone is always there to help you. They also have a speedy maintenance service which is always super helpful. They respond to e-mails same day which is a huge plus. :)"
Average rating on Google: 3.1
University Manors believes that a student's relationship with their management company should be hassle free.  This is accomplished by them keeping their properties in quality condition. In fact, they spend a great deal of time and financial resources reinvesting in our properties by upgrading and improving them.  If you have been in any of their homes, it is evident that University Manors strives to achieve a higher standard of off-campus living at an affordable rate.
Our favrotie Google review:
"Staff is VERY well organized and professional. Are very good at responding to maintenance requests and any problems you. may have. They also are very friendly when coming into the office and are happy to answer any questions you may have as well as provide other helpful information just about Columbus or helpful tips for campus life!"
Average rating on Google: 4.1
Edwards Communities is known for exceptional community amenities, gorgeous interior apartment home finishes, and superior customer service from our professional on-site sales and maintenance teams. Dedicated to the principle that apartment living should be a unique and relaxing experience, Edwards Communities provides amenity filled, maintenance free, care free living in beautifully maintained surroundings.
Our favorite Google review:
"I moved in with my fiance in September and it has been wonderful since day 1. Sherri, Caroline, and Gabby have been outstanding and made the leasing and moving process as simple as can be. The complex is very dog friendly as it has a courtyard, dog park, and even a dog spa! The amenities are great and I could go on and on. I would recommend it to anyone!"
Average rating on Google: 3.1
Peak's team is dedicated to providing excellent customer service with every interaction. They take great pride in our resident satisfaction, and overall customer experience. They are A+ rated with Better Business Bureau, and consistently receive positive reviews by their residents.
Our favorite Google review:
"We have had a really positive experience with Peak Property so far. Carla is very accommodating and was very helpful throughout the initial application process. Maintenance has been prompt and typically solves whatever issue we have within 24 hours. We have never felt that the staff was intrusive and they are very much hands-off unless you need them. Landscaping is always nice and our townhome has been well-maintained with newer appliances that work well. No major issues or complaints. We would recommend to friends!"
Now that you're informed, you can check out more information on Ohio State off-campus housing and browse rentals in Columbus.