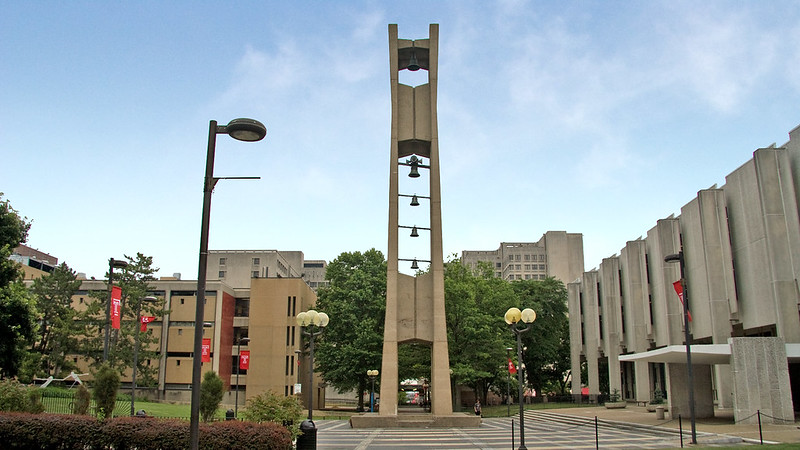 Here at College Pads, we understand your off-campus house hunting struggles. After sifting through what seemed like a gazillion properties, you've finally narrowed it down to your top choices. If you're a first-time renter, you may not have thought about all that goes into choosing a place. Have you looked into the landlord's credibility? Sure, that place may look great, but when you are leasing a place off-campus, you should think about way more than just looks! To be on the safe side, take a look at our picks for the top-rated landlords in Philadelphia for off-campus housing near Temple University. We searched high and low to bring you the best landlords near Temple so you don't have to!
MK Management

With a variety of different locations throughout Philadelphia, you're bound to find a great place off-campus from MK Management! Whether you prefer a one-bedroom apartment for yourself or would like to live in a house with a group of friends, the team over at MK Management can set you up with a place to accommodate almost any group size. Most of their apartments and houses are located near Temple University and offer a variety of amenities, like remodeled units, in-unit laundry, parking, patios, and pet-friendly units. Check out what MK has available today!

Temple Villas

Looking for a great, accommodating, and unique place to live? Look no further! Temple Villas offers a range of apartments and housing options to suit your off-campus needs while living in Philly! Temple Villas units are located near Temple University, making your commute to class a breeze. Students can choose from a range of floor plans, from single to six-bedroom units. Apartments come decked out with stainless steel appliances, and most units have been recently updated to include hardwood floors, in-unit washer and dryers, and state of the art security features.

North Broad Living

Locally owned and operated, North Broad Living acquired its first property in 2006 and sought to provide safe, affordable, and convenient off-campus housing options to Temple University students. 8 buildings and 60 student apartments later, they are doing just that! Each apartment size varies, but they have anywhere from single to four-bedroom units that can be rented by the bed. All of the North Broad Living apartments are within a safe walking distance to campus and come with updated kitchen appliances, hardwood floors, laundry facilities, and security systems.
Maze Group Development

With apartments ranging from studio to 7-bedroom units, Maze Group is here to make your transition to off-campus living in Philadelphia as smooth as possible. Many units have been recently remodeled and include hardwood floors, stainless steel appliances, and granite countertops—you'll feel right at home without breaking the bank. Many of their properties also include a washer and dryer, central air, and parking. Best of all, the majority of Maze Group rentals are located within walking distance to Temple and a short commute to neighboring schools like Drexel University and the Univerity of Pennsylvania.

Crawford Group

With years of experience, you can count on locally owned and operated Crawford Group to set you up with a perfect off-campus housing pad in Philly! Although they have several properties located throughout Philadelphia, Crawford Group is known for investing in off-campus housing in the Temple University Area, so a majority of their properties are just minutes away from campus! Prospective students can choose to live alone or have up to a six-bedroom house with a group of roommates. Amenities at each of their fabulous properties vary, but some of the highlights include partially paid utilities, ample parking options, onsite laundry, dishwashers, and more! With years of experience, attention to detail, and investment in the future of Temple University students, you can trust in the Crawford Group!

Temple Nest

No car? No problem! Temple Nest Apartments are just a short walk to campus for any student attending Temple University. Temple Nest offers fully furnished 2, 3, and 4-bedroom units that even include flat-screen TVs! Some of the awesome amenities at Temple Nest include private bedrooms keyed separately, granite countertops, laundry on-site, and stainless steel appliances. Additionally, students sign their own individual leases, so you won't be held responsible for the rest of your roommates.

The Nest at 1324 North Broad

Soar to new heights when choosing to live off-campus at The Nest at 1324 North Broad! This luxurious apartment complex was designed with the Temple University student in mind. Their studio to three-bedroom units boast magnificent views of Philadelphia, which you can rent privately or shared. The Nest is conveniently located just two blocks away from Temple University, and if that weren't convenient enough, residents have access to some sweet amenities like a 24-hour fitness center, 24-hour tech lounge for all night studies, a gaming lounge, and an outdoor firepit and TV!

Oxford Village

Conveniently located a mere two blocks to the Temple University campus, Oxford Village is a great choice for students looking to live off-campus in Philadelphia! Residents will be located on the Flight Shuttle route with easy access to public transportation. The building is also walking distance to shopping and restaurants, making everyday life easy! At Oxford Village, prospective tenants can choose one of their spacious and newly renovated one, two, and three-bedroom units with the option of a furniture package. Some awesome community amenities include an on-site laundry facility, a theater room, and a pool table. Best of all, your rent is all-inclusive, meaning all utilities are included in the price!

Apartments @ 1220

Location is important when it comes to off-campus housing, and the Apartments @ 1220 has a good one! The complex is located only 8 blocks from Center City and is less than a ten-minute walk to the Temple University campus. It's also one block away from the Broad Street Subway and several Septa bus routes, putting everything you need to do and anywhere you need to go right at your fingertips. The Apartments @ 1220 has studio to 2-bedroom units and offers a laundry facility, fitness center, media room, and a parking garage.

Diamond Green Apartments

Location, location, location! You can't beat Diamond Green's location, especially if you're a Temple student. The apartment is located right on the corner of the Temple University campus, making your daily commute to classes a thing of the past! Students can experience luxury style off-campus living in one of the many different four-bedroom style floor plans. You can choose to bring three friends, or get paired up with some roomies and have your own private bedroom. The complex includes a laundry facility, WiFi throughout, ATM, bike racks, a fitness center, and is on the Temple Owl Loop.