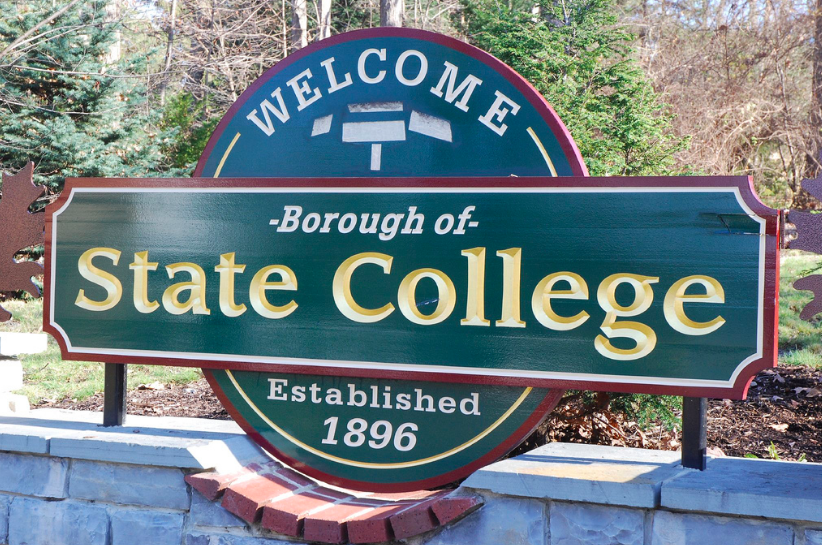 So you're looking for apartments near Penn State — but where do you start? We know what not to do. Don't go around town looking at For Rent signs taped up in dusty windows with landlord numbers hastily scrawled on them. Instead, you should research the best possible landlords and property management groups near campus! But how do you know which companies are best?
That's where College Pads comes in. We work with reputable landlords on a day to day basis, so we've decided to put together a list of the best possible property management groups for you to compare when looking for your next place. Check out these top landlords, and then search for their Penn State apartments and houses on our customized map page!
It's not often that a landlord will contact you about maintenance repairs instead of the other way around. But that's just the kind of service you'll find at the Apartment Store! According to Marissa, "The staff always let me know if there was any maintenance that needed to be done or if they needed to show the apartment to possible renters. Great place to rent from!"
Clayton was also very impressed with his experience at the Apartment Store. "Customer service was great; anytime you went into their office for a package or something they made sure nothing in your apt. needed fixing. Held lots of activities that drew the community together, with live bands, cornhole tourney, stuff like that. Never lived anywhere that did that before," said Clayton.
2. ARPM
If you're looking to rent from a property management group that specifically works with students, ARPM should be your go-to. College students report that ARPM knows its renters well and never looks down on the fact that they're in school. Megan said that "every time I've had to call for anything, ARPM has been more than happy about doing all they can to help my roommates and I. As a college student and first timer to renting an apartment this is incredibly reassuring to know I have a genuine staff to contact if I ever have any questions or concerns. They've made this process more enjoyable."
Continental Real Estate provides lots of great apartments in the Penn State area, and its tenants notice. They've been highly reviewed for their great staff and maintenance. Samantha noted that "This establishment is very accommodating and friendly. They will help you find the exact living quarters desired. Great staff and prompt service."
Kenneth, a local guide, says "Scott and company are great they helped my find a fantastic apartment in my price range. Any time I've needed help or maintenance it has been quick and timely."
Not only is Property Management Inc. well reviewed by students, but it's also parent approved. Denise was especially impressed, saying "[Property Management Inc.] provided the best customer service I have received looking for apartments at PSU and the cleanest! Betsie and Kristen were beyond attentive and helpful. I highly recommend PMI to any parent looking for peace of mind concerning living conditions for their child."
Specifically, Kristen Dzvonyicsak and Betsie Feighner were repeatedly mentioned in reviews for their high levels of attentiveness, professionalism and customer service. They've got the seal of approval from both students and Rent College Pads!
If you're looking for a property management group with historic buildings and great service, check out GN Associates. Lauren, a Local Guide in the Penn State area, was especially pleased with GN: "The office staff is always nice, and it was super easy for me to sublet a parking spot for the second half of the year. Also, I lived in the Lion and my utilities were included in rent, which is something that I wasn't used to – another plus. Overall, the experience that our apartment has had with GN has been very positive."
Parking, utilities and an amiable staff are just the beginning of what GN Associates has to offer its renters.
Trout Housing offers apartments all centered around Penn State's main campus, with most of its rentals within two blocks of the university! In addition to the close proximity of its apartments, Trout Housing doesn't require its renters to pay a security deposit. Sound insane? It's true! But it gets better: Trout Housing also includes parking and laundry in its rental deals. All you need to bring is your own furniture and you're set to go.
7. Legacy Realty & Property Management, LLC
Legacy has a long tradition of serving students through its small, student-oriented approach. They offer everything from apartments to homes to condos (although we doubt you'll be investing in a condo in college!), and their experience is extensive.
We recommend Legacy Realty & Property Management, LLC because they've catered to generations of Penn State students and emphasize qualities like affordability, location and rental variety. Whether you're looking for a studio or a nine bedroom boarding house (and everything in between), Legacy has it.
8. The Pointe
The Pointe is very well-liked by Penn State students because of its spacious rentals and personalized units! Each renter receives their own bedroom and bathroom, which gives students the space they need when they're tired of being surrounded by schoolmates and friends all day long (we don't want to admit that we get tired of our friends either, but it happens).
The staff are well reviewed, too! One student who was especially impressed with The Pointe had this to say: "My experience at the pointe was near perfection. The apartment setup is individualized, and comes with all of your needs! I would recommend anyone to live here because of the staff and students."
9. The Retreat
The Retreat is a top-tier property management group not only because of its spacious rentals, but also because of the staggering amount of amenities they provide. Here you'll find a pool and hot tub, an on-site hair salon, a sauna room, a golf simulator (yes, you read that correctly), a computer lab with free printing, and much more.
Ian especially loved his experience here. "I love the Retreat!" he said. "It has been the best living experience of my life thus far! I wouldn't choose to live anywhere else! I would 10/10 recommend to a friend."
We could go on and on about Blue Course Commons, but we think Erin's commentary says it better than we ever could: "Couldn't have asked for more from Blue Course Commons. New furniture, great amenities, and prompt and professional management that have made living here nothing but a pleasure. I love the distance from campus, and the town-house style makes it really feel like you're truly home every day. It's quaint and quiet here, and it really has made my all-around Penn State experience great. I love living here so much, I have renewed my lease and I am living here next year as well. I would highly recommend Blue Course Commons to anyone!"
Need we say more?