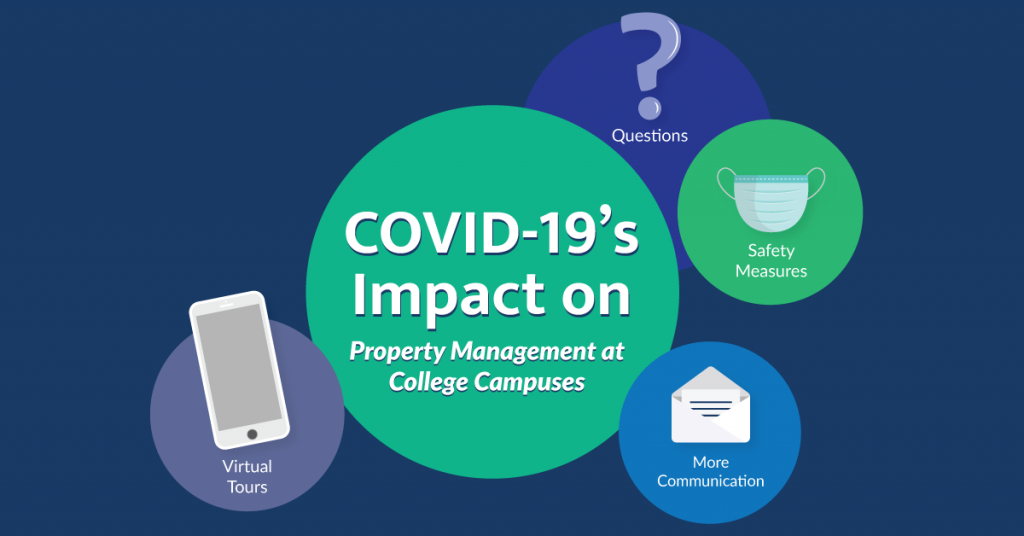 Unless you've been under a rock for the last few months, you know that literally everything about our day to day life has changed. We are socially distancing ourselves from family and friends, wearing face masks when we need to venture outside, working remotely at home offices, and waiting on daily updates about what the new few months of our lives are going to look like. It's boring, but it's what we need to do.
Even though some places are slowly opening businesses back up, it won't be business as usual. Not for a while anyway, and the off-campus housing market is no different. With some schools announcing they intend to have on-campus classes in the fall and others still holding off, it's a tumultuous time for property managers.
To get a feel for what that's like, we spoke with the property managers at Cedarview Management / Tenth & College at Indiana University to ask exactly what the coronavirus has meant for them. Cedarview Management is one of the largest property management companies in the Bloomington, IN area. They've built a strong reputation on consistently highly rated tenant experiences among IU-Bloomington students over 45 years and have a mix of apartment complexes and homes for rent near Indiana University.
The biggest takeaway from our conversation with Cedarview Management was that things are in flux and property management companies are doing their best to understand the challenges tenants are facing while balancing the needs of their business. It's a tough time and a focus on providing safety and comfort while students face so much uncertainty is paramount.
What questions are tenants/potential tenants asking you? And how have you responded to those questions?
One of the more frequently asked questions we've received from tenants is if they can get a refund for amenities that had to be closed due in order to comply with the directives given by the State and local health departments. The answer to that is: Possibly.
We are discussing what we can offer our residents for the closed amenities. We aren't sure what that will look like as it's still under discussion, but it's definitely something we're exploring.
What are your potential tenants' main concerns for next year?
Obviously, so many people are scared for their health and safety. This is why we've taken measures to protect the health of our tenants and staff including increased cleaning & sanitization protocols, strict safety measures for our office staff and for our maintenance staff (especially when we need to enter an apartment – for maintenance or otherwise).
Outside of their concern for their health, a majority of tenants are concerned about how they will be able to afford rent this year/next year. We've started offering payment plans to tenants that are struggling financially, waiving late fees, and trying to figure out how best we and they can meet their lease obligations. And while we don't necessarily recommend it, we have heard from other landlords that some tenants have paid off their rent using credit cards.
How has COVID19 changed your business?
What's crazy, is that we feel much busier than usual – originally we thought we were going to be very slow, but because of the steps we've been taking to keep everyone safe that it's led to a huge influx of emails from prospective tenants, current tenants, and the staff itself.
Since a majority of the staff are working remotely, we've been having team calls in the morning to make sure everyone is on the same page.
Since most students have moved back home, including those who are looking for housing for the upcoming 2020-2021 academic year, they are unable to do the traditional in-person tours and lease signings. So another big change for the business has been the addition of doing Facetime/WhatsApp tours and E-Leasing. So far, they've worked out great!
For the units that have residents still living there, we've made sure the tenants were comfortable with us conducting the Facetime/WhatsApp tours in their unit. Some of the current tenants, who were uncomfortable breaking their social distancing, offered to conduct the Facetime/WhatsApp Tours for us. This was pretty awesome as the prospective resident could ask our current tenant questions.
Another thing that's changed for us is the move-in and move-out process. We used to meet all new tenants at the central leasing office for their move-in, but now we'll meet them at the property. We're trying to avoid anything in-person for the safety of the tenant and the staff member. Move-in inspections are conducted before the tenant moves in, emailed to them for review, and they are given a few days to add/make changes to their move-in inspection.
What's been the top 3 things you've been focused on during the last few months?
Our primary focus during these times has always been the safety of residents, staff, and contractors. A strong second would be maintaining good customer service. While it takes us a little bit longer to get through maintenance requests (because of the strict safety protocols we have in place), we are working our absolute hardest to keep our residents safe and happy. Our third focus has been communication – with our staff internally, and with our tenants externally.
What kind of advice would you give to other landlords/property managers?
The best advice we could give to another landlord is to keep up their communication! During times like these, communication is key. You don't have to spend a lot of time composing a great email, you just have to respond in a timely manner. We'd go as far as to say that no response is worse than a bad response.