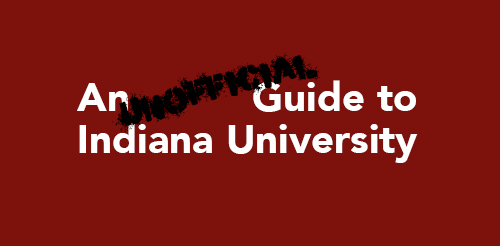 We know every college campus is different. We also know students may have very specific questions when they are researching potential colleges. So we've prepared a guide to Indiana University specifically for students.
We want to focus on what we know matters most to students. What's the weather like? Is there a way I can make this experience cost any less? Where can I get a good drink? WHERE DO I DO MY DANCING!?
So here is the Rent College Pads Unofficial Guide to Indiana University:
Weather Situation: It's the Midwest. Be ready for a colorful Fall, a cold Winter (seriously it gets so cold), a late Spring and a hot Summer. If you're coming from the South or the West Coast, bring a heavy jacket and some boots. Also, learn what heavy jackets and boots are.
Scholarships: Indiana's website offers a detailed breakdown of all the scholarships they offer. Just navigate a few boxes and you'll find what potential scholarships best align with you.
Schools:
College of Arts and Sciences
Mauer School of Law
School of Library and Information Science
Jacobs School of Music
Kelley School of Business
Department of Labor Studies
School of Public Health
School of Education
School of Public and Environmental Affairs
School of Journalism
School of Informatics and Computing
School of Optometry
School of Nursing
Pick one of these schools and then go to class a bunch, do your homework and graduate. The degree you get will be a useful tool when your college debt leaves you in tears and too broke to buy tissues.
Greek Life: Big.
Greek Life is very prominent at Indiana University. Hoosiers frequently rave about the party scene at IU and the vast majority of students acknowledge that a lot of the partying that goes on around the IU campus centers around fraternities and sororities.
There are over 5,000 students in the school's community of fraternities and sororities. At a school as big as IU though, that means there are still plenty of students who don't participate in Greek Life. So there's no need to be worried about fitting in at IU if you don't do the frat thing.
Street to Know: Kirkwood Avenue
Kirkwood has tons of bars and restaurants that cater to students, from franchises like Brothers to legendary local places like Kilroys on Kirkwood.
Among the most popular spots on Kirkwood is Kilroys Dunnkirk, a popular destination for students that want a club atmosphere. They book acts like Waka Flocka Flame and DMC (of Run-DMC), always have music and offer karaoke on some nights. Be forewarned: Their website autoplays music, even though we're in the year 2015.
Other Kirkwood bars and restaurants that attract their fair share of attention are Nick's English Hut, The Alley and The Village Deli.
What Are You Doing on Saturdays?:
Tailgating is a big deal at Memorial Stadium. Get there early on Saturdays before kickoff and enjoy a great college football atmosphere. But don't count on a win. The Hoosiers are just 10-26 since 2011 under current Coach Kevin Wilson and have only been to nine bowl games in 120 seasons. Notre Dame, this ain't.
Basketball is a different story. Count on being at every basketball game at Assembly Hall. The IU men's basketball team has a rich tradition and has made the Sweet 16 of the NCAA tournament twice under current Coach Tom Crean.
A Resource for You: WeAreIU.com has all kinds of great stories and reports on what it's like to go to school at Indiana University Bloomington.
More Questions about IU?
The Indiana University Subreddit has tons of great information for current and prospective Bloomington students.
Looking for a place to live?
You know we have that covered. Check out available IU apartments .