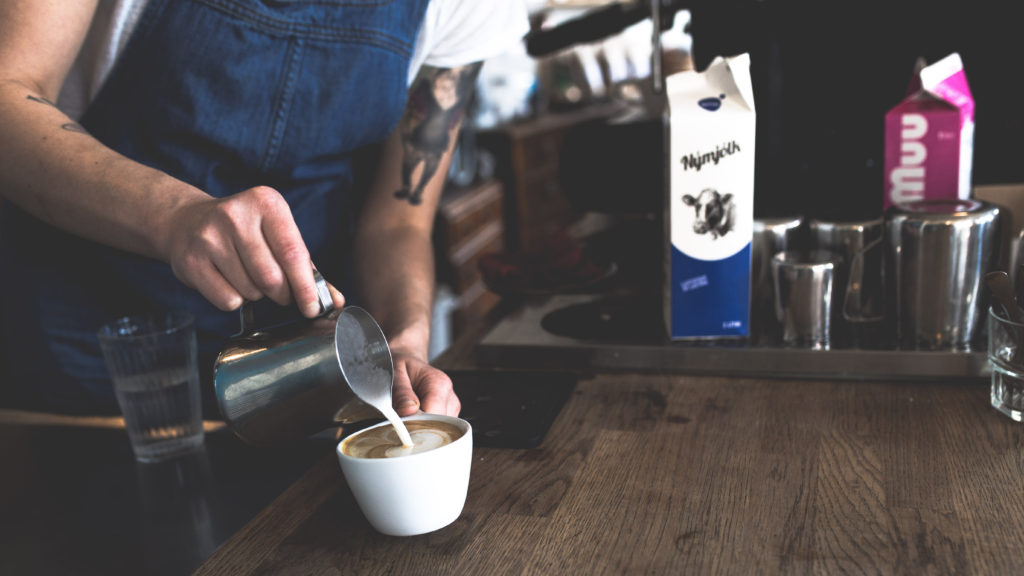 Finding a good coffee place is key to making it through your next semester at Cornell. Whether you're grabbing a cup to get you going in the morning, or you need some extra encouragement for an all-nighter, students at Cornell spend their fair share of time fully caffeinated.
While some of you are still missing the beloved Stella's Cafe, there are plenty of other awesome cafes and coffee shops to check out near campus! If you're in need of caffeine fix, these five coffee houses near Cornell off-campus housing have got you covered.
1. Gimme! Coffee
Address: 430 N Cayuga St or 506 W State Street
Phone: 877-446-6325
With multiple locations throughout Ithaca—including one in Gates Hall—students at Cornell can always count on Gimme Coffee for a midday pick-me-up! This local favorite offers an espresso bar, a wide selection of organic teas, baked goods, and their own locally roasted coffee.
Best of all, Gimme Coffee specializes in artisanal brews; their fair trade coffee beans are air roasted in small batches at their flagship store on State Street. Customers can even partake in free coffee tastings and other special events every Wednesday at 5:30 pm. Afterward, feel free to grab a seat at one of their roomy tables, kick back and enjoy some jazz.
2. Ithaca Coffee Company
Address: 311 E Green St
Phone: 607-257-2626 ext. 1236
Ithaca Coffee Company goes above and beyond its name; with a market, cafe, and bar, they are much more than just a coffee shop! Ithaca Coffee Company has two locations: one downtown on Green Street and one at the Triphammer Marketplace.
Atmospherically, the Ithaca Coffee on Green Street is quieter. Its location makes it hard for it to get too much walk through traffic, making it a perfect spot to drink your coffee in a booth and do some work or reading.
On the other hand, the Triphammer location generates a lot of foot traffic, so seating can be limited. But if you're looking to grab a quick cup or snack on the go, it's a great spot to visit. They even have a variety of craft beers, pastries, sandwiches, chocolates and more for patrons to enjoy!
3. The Shop
Address: 312 E Seneca St
Phone: 607-273-5028
As you enter The Shop you'll be greeted with the welcoming orange and green floor tiles, mustard yellow walls, hanging plants, and Christmas lights strung around the cozy room. A hip and trendy spot, The Shop, is a comfy place to grab a cup of joe, and maybe even get a tattoo—towards the back of the Shop, you'll find a tattoo parlor and tons of local art.
On the coffee side of things, The Shop menu features a list of espresso drinks, pour over coffees, locally made food items, fresh juices, and teas. Customers even have the option of creating their own drink, whether it be a with a French press or an Aeropress pour over.
4. Press Cafe
Address: 118 W Green St
With bright white walls and large window panes, the minimalistic Press Cafe offers a fresh atmosphere with tasty food and drinks. It's one of the newest additions to the Press Bay Alley; it provides Ithaca locals with another a great spot to study and enjoy a delicious snack.
With a simple selection of brewed coffee, teas, pastries, and espresso, the folks over at Press Cafe believe that less is always more.
5. Coal Yard Cafe
Address: 143 Maple Ave
Phone: 607-277-0734
What was once was a coal yard back in the day, the Coal Yard Cafe has since transformed into a quaint spot in Ithaca for breakfast, lunch and—of course—coffee. Leather chairs, a cast iron fireplace, and rustic decor make Coal Yard your comfortable and cozy neighborhood cafe.
The cafe serves up a fantastic brunch, deli sandwiches, bakery items, and an extensive array of specialty coffee drinks. If you're a chocoholic, make sure to try The Ithaca Mud. Or better yet, satisfy your sweet tooth with The Nutella. Yum!
Did your favorite spot make the list? Comment below and let us know why you love it.