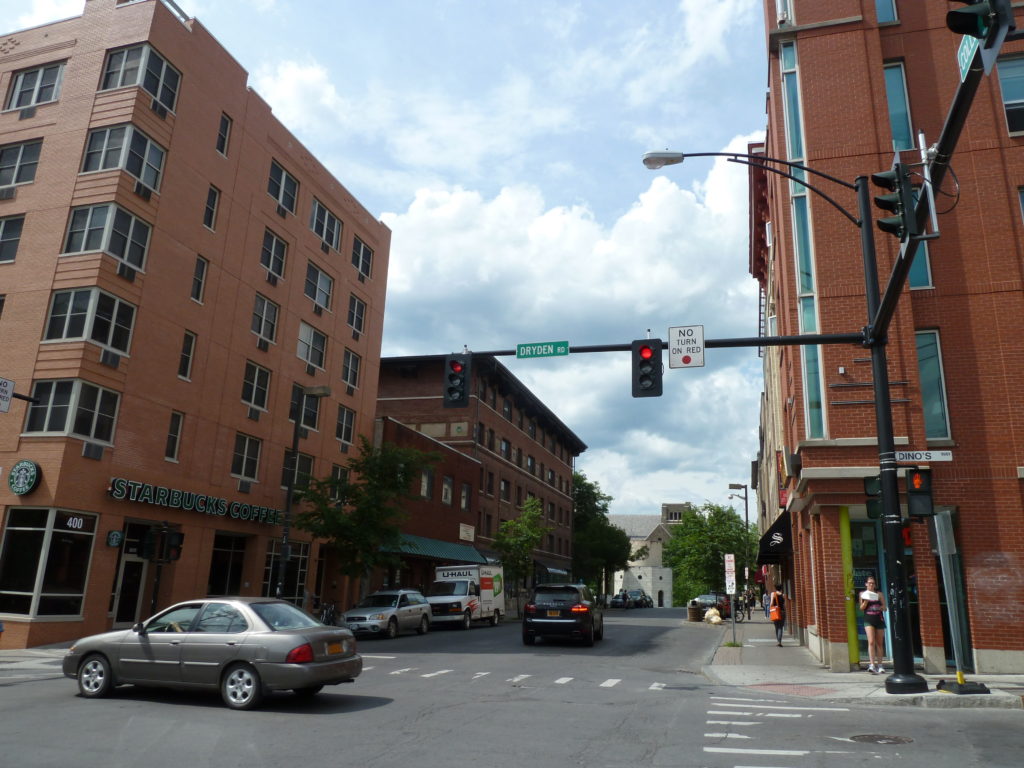 Perhaps this is your first year of college and you opted out on on-campus living or maybe you're finally getting ready to leave that dinky dorm room behind! Whatever your situation may be, it's probably your first time looking for a place off-campus near Cornell, but how do you start? After an entire school year of guessing on your exams, let Rent College Pads take the guesswork out of where you're going to live. We did tons of research to find the best of the best for Cornell off-campus housing so you don't have to!  After reading countless reviews, we have left you with our tops picks for Cornell University and Ithaca landlords.
City Centre Ithaca is a beautiful brand new apartment community that opened in July of 2019. Prospective tenants can choose from one of their many floorplans (can get it furnished) ranging from studios to junior suites to two bedroom apartments. Whether you choose to live solo or shack up with a roommate (matching provided) you will have access to the same cool apartment features including quartz countertops, private terraces, and in-unit laundry. Students can also take advantage of community amenities like a fitness center with training studio, pet washing stations, bike storage, and more. All this mixed in with a cool, convenient location in downtown Ithaca, make for one of the best apartments near Cornell!  
For over 35 years, Travis Hyde Properties has been setting up undergraduates, graduates, and families alike in their perfect pads! From studios to eight bedroom apartments, Travis Hyde offers a large range of apartments to fit anyone's tastes and interests. Located in Collegetown, Downtown, North Campus, and Cornell West you'll be able to find a location to suit your needs. Stacey wrote that Travis Hyde Properties is a "Great family owned and operated local business," and she would, "Highly recommend them." While Stan said they have, "Extremely fast management support of residents." Some great perks of their apartments are they come fully furnished and some even come with TVs! Residents also get heat and hot water roped into their rent and many apartments have free high-speed Internet.  
Iacovelli Properties does it all! They develop, own, rent and manage each of their units. "Iacovelli Properties specializes in residential leasing as well student housing." Iacovelli Properties offers both houses and apartments for their residents to choose from. Their properties are located all over Ithaca, both Downtown and near Cornell University in Collegetown. Each of their properties offers a wide range of amenities, dependent on the property. Some of these great amenities include fully furnished apartments, laundry on-site, private balconies, and lawn care like snow removal. Living in an Iacovelli unit, you'll be close to shops, restaurants, the Ithaca bus line, or just a short distance to campus making your commute easy! 
West Shore Apartments, a family owned and operated business, began in 1967 when Bob and Linda Terry bought a three-unit apartment building and rented out two units while they lived in one. As their family grew (to six children), so did their company. One of their daughters, Karla, graduated from Cornell University and now serves as the primary manager of their properties. One student wrote that " Karla is a fantastic landlord, really terrific. She responds to emails very quickly and resolves problems in under 24 hours (and that she is) very understanding about accidental late rent and other similar minor issues (and is) very pleasant to interact with, not rude or aggressive. honestly, my roommates and I agree that this is probably the best experience one could have with a college landlord." West Shore strives to offer great apartment living at a great with even better service! The majority of their apartments are in walking distance to Cornell or just a few minutes commute. A few of the great amenities included are fully furnished apartments, parking, online rental payments, dishwashers, laundry on-site, and WI-FI! 
A small, family run business the folks over at Beer Properties offer great off-campus living rentals to Cornell University students, scholars, and professionals-that they manage and maintain themselves! Offering rental houses and apartments, any prospective tenant is sure to find a place to suit their needs. Beer Properties portfolio of houses and apartments are located in Ithaca's Collegetown area, and on the East Hill and South Hill, meaning all properties are walking distance to the Cornell University campus. While each property varies in size and offerings, you can expect to have stainless steel appliances, dishwashers, in unit laundry, parking, furniture packages, and a whole lot more! 
The Audent Ithaca Student Apartments, have been recently renovated and provide affordable studio to four bedroom units to prospective students tenants. One tenant said, "Highly recommended! Just wanted to express my gratuity for the staff for always going above and beyond and being so accommodating! Thank you Tania and Tony!" While another said "The Auden community here is great. Service is extremely smooth. Maintenance is fast and reliable." Some other great amenities of the building is that it's pet-friendly, offers onsite laundry, runs a free shuttle to campus, has a fitness center and is a five minutes walk to Ithaca Falls and several hiking trails. 
The team at Ithaca Living Solutions, a second generation, privately owned rental company, has been in the housing game since 1965 so these guys know a thing or two when it comes to finding off-campus housing for all students and professors alike. From studio apartment units to four bedroom houses, undergrads and grads are sure to find something to fit their style and budget. Some great perks of Ithaca Living Solutions properties include off-street parking, utilities included, onsite laundry, and much more. And with their 24/6, 365 service call commitment you know you can count on the Ithaca Living Solutions team to be there when you call!  
Kimball Real Estate, is a local owned and operated business by Ithacans and Cornell University alums and the company has been around for over 60 years so you know these guys are doing something right when it comes to helping students find housing!  One student raved, "I rented a house from Kimball for 4 years, and had a really good experience with them. They always responded to our maintenance request promptly. Great people to work with! very considerate." Choose from hundreds of apartment units and houses located all throughout Ithaca, many properties are located within a short distance or are easily walkable to the Cornell campus. One of their apartments has even won a national award of excellence, so you can bet Kimball Real Estate will set you up in a great rental fitting your style and budget needs! 
If you're a student, and you're looking for a rental in Ithaca, be sure to check out the amazing properties by Student Rentals Ithaca-hey it's right in the name! Their expertise is setting up students in one of their many luxury apartment units or houses throughout Ithaca. Locations for their properties are prime for Cornell students because they are located in Collegetown and South Hill, they even offer great parking options if you opt to bring your car to campus, however, with their great locations walking to campus is a breeze! Student Rentals offers a wide range of amenities and perks and as each location varies you can expect free on-site laundry, free parking, outdoor patio and balconies, furnished apartment options, and so much more! 
Novarr-Mackesey Property Management (Ithaca Student Apartments)
Novarr Mackesey Property Management also known as Ithaca Student Apartments and for great reason-that's their forte! Novarr-Mackesey has been helping set up Cornell students in awesome Ithaca apartments that are tailored to meet the needs of students. From traditional campus area houses to brand new apartment complexes like Collegetown Terrace, they've got something for every individual to every sized group. Students renting with Novarr-Mackesey can expect to have access to sweet amenities like furnished apartments, on-site laundry, access to a free fitness center, parking options, high-speed Internet and tons more, be sure to check out Ithaca Student Apartments by Novarr-Mackesey today!