Some students spend hours, even days on end, in the library. It's a great place, I hear, full of resources and quiet areas and there's usually a great supply of coffee nearby. Whether you know the layout of the library like the back of your hand or have to ask directions every time you're supposed to meet there for a group project, creating the ideal study zone in your college apartment is extremely beneficial. So we've put together a few helpful tips on building your fortress of study-tude.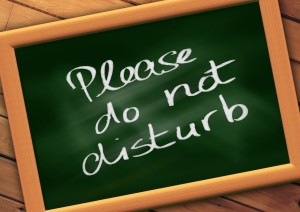 Know How to Eliminate Your Distractions
Some people can pump out 10 page research papers while the rest of their house is throwing a level 5 rager, some people can't get anything done if there's so much as a TV turned on too loud. Your space needs to be completely free of distractions. That doesn't mean you can't take a break now and then, but separate your work space from the rest of your apartment. The best study zone starts with the one keeps your mind focused on studying.
Good Furniture Facilitates Good Focus
Propping your laptop on a couple of milk crates next your extra large bean bag chair may not be the most conducive to getting work done. Make sure you've given yourself enough space for your laptop, notes, and books. Being able to navigate quickly between all your resources is important, Organize everything in whichever way makes you feel the most comfortable working. Your chair should be comfortable too, since you should be spending a decent amount of time there. Get something that can swivel, a good cushion, and better back support. If you get something fancy with nice leather, you're that much closer to being a boss.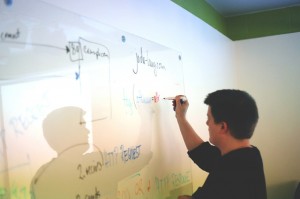 Whiteboards are Perfect for Notes
They're not just for mad scientists or child prodigies, a whiteboard is a great tool to enhance your study powers. It's the perfect blank canvas to tackle your problems one by one, all in one place. Plus, it's pretty good for the environment to not waste 100's of pieces of scrap paper.
Good Lighting Sets the Mood
I mean for studying, of course. Bright white lights will burn your eyeholes out while dull lights while a dim atmosphere may help put you to sleep. Nice soft, yellow overhead lighting is generally the best source of light for studying. Enough so that you can see everything clearly but not anything that's going to blind you. I would rely on that five dollar desk lamp to be your only source of light.
Living in the right area is, of course, also important for a good home study environment. Thanks to our massive resource, you have your pick of the litter as far as where you want to live. Of course, you'll still want to start looking for a place early. So check out our housing map for your school. If you have any questions or need any help, feel free to send us an email!