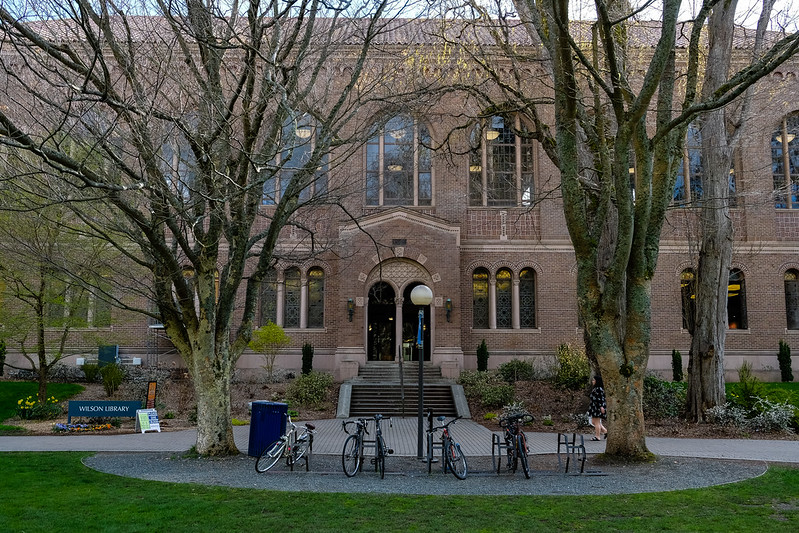 Congrats! Somehow you managed to make it through your first year of college at WWU and survived the dorm life. Friends are signing leases all around you, and your parents keep nagging you about finding off-campus housing in Bellingham for the next school year. No more putting it off—it's time to start "adulting" and sign your first lease! But it's your first time, how do you know where to start? Look no further! To make it easier for you, College Pads did some digging to come up with a list of the top off-campus Bellingham landlords.
University Properties Bellingham
University Properties of Bellingham offers a large selection of off-campus student housing in Bellingham and have been doing so for over 20 years. With housing options ranging from 2-7-bedroom apartments and houses, all of which are convenient to downtown and WWU, University Properties has something to offer every lifestyle. With a variety of amenities such as central air, in-unit washer and dryer, and parking, University Properties knows how to provide the most convenient and comfortable living for college students!
Landmark Real Estate Management
With over 1,600 residential options—many that are perfect for WWU students—throughout Whatcom county, Landmark Real Estate Management is one of the largest property management companies in the area. You can bet you'll find the perfect pad with all of the options you'll have! With locations all throughout Bellingham, each property offers various amenities such as off-street parking, on-site laundry, utilities included, and more. Serving the Bellingham community since 1993, Landmark Real Estate knows how to provide extraordinary off-campus housing to students they can trust!
Elevate Bellingham
Take your off-campus student living to the next level at Elevate Bellingham! At Elevate, WWU students have the choice between studio, 2, 3, and 4-bedroom units. You can cut the hassle of moving a bunch of furniture because your pad comes completely furnished! When you choose to live at Elevate, you'll get tons of unbeatable amenities like a relaxation center to destress from classes, access to an onsite fitness center, a game room where you can shoot some pool, and so much more!
WWU Living Communities
Experience a new way of off-campus living when renting with WWU Living Communities! Students can experience the best off-campus living at one of the five WWU Living Communities locations. Each property is within walking distance to campus, but depending on the apartment complex, (Taylor Heights, The U, University Heights, Viking Garden, or Sky Vue) floor plans range from one to five-bedroom units. Apartment amenities include a coffee bar, community deck with grill, covered parking, and an outdoor game area.
Local Property Management
A family-owned company, Local Property Management steps up to the plate and goes above and beyond when it comes to off-campus housing. They have been setting up Western Washington students with some of the best housing in Bellingham for years! Whether you're interested in living in a house or of-campus apartment, the team over at Local Property Management will help you get a place that fits your style without breaking the bank. Dawnah has been in the business of helping students for over twenty-five years, and James is a WWU graduate. Between the two of them, you know you can trust them to understand the needs of a student renter!
Son-Rise Property Management
Son-Rise Property Management has been providing top property management services to the Bellingham community for nearly 25 years, making them a key player on our list. Offering a wide variety of townhomes, duplexes, houses, and apartments for rent, any WWU student can find something that meets their criteria. Whether you want to be walking distance from campus or a short commute away, the Son-Rise team will set you up in a great spot off-campus in Bellingham!
Pomeroy Court Apartments
Off-campus student housing hits a new level at Pomeroy Court! Location is important when choosing a place to live. Conveniently, Pomeroy Court is just a short, serene eight-minute walk to the beautiful WWU campus. The one, two, and three-bedroom units come with appliances, on-site parking, and outdoor patios! Students can also choose between pet-friendly or smoke-free units, and can even upgrade to a unit with a dishwasher and in-unit laundry.
Hammer Properties
Located in Downtown Bellingham, Hammer Properties has climbed the ladder to become one of the top property management companies in the Bellingham community. For WWU students living off-campus,
Hammer Properties manages an abundance of houses and apartment complexes that are just minutes from campus by bike, foot, or bus. Each day, they strive to improve their services based on the tenants' needs, and their properties are constantly revamped with modern-day features.
New England Apartments-RPM Property Management
Just a half-mile from WWU, the New England Apartments (managed by RPM) offers the perfect combination of comfort, convenience, and affordability with their options of 1-4 bedroom apartments. Each of their spacious units comes with a fully equipped kitchen, in-unit washer and dryer, and a private balcony or patio. With 24-hour emergency maintenance and a highly attentive professional management team, we guarantee you'll be taken care of at the New England Apartments!
Chuckanut Property Management
The highly-rated Chuckanut Property Management team has been in the business for several decades! With experience like that, not to mention an impressive portfolio of Bellingham houses and apartments to choose from, WWU students are bound to find a great place with Chuckanut Property Management. Offering a range of unit sizes with a variety of amenities, the Chuckanut team can accommodate everyone from individuals to large groups!