Finding off-campus housing near Temple University can be a bit…tedious. There are so many different neighborhoods to choose from in Philadelphia leaving you with hundreds of options to sort through. You can view all of them on our Temple University off-campus housing map page.
With the price of rent and amenities taking priority in your mind (and wallet), it can be easy to overlook everything a neighborhood has to offer. So we did some digging and found the common crimes in popular neighborhoods around Philadelphia. Take a look and make a well informed renting decision.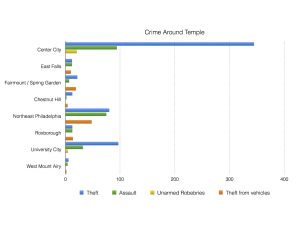 Center City:
Center City is Philadelphia's downtown area. With tons of shops, hotels and a vibrant nightlife, it's easy to get caught up in the business of the area. Because of high foot traffic and the high number of bars in Center City, it's easy to understand why the top three crimes in the area are theft, assault, and unarmed robberies.
Here are some tips to stay safe in this type of environment:
Avoid walking with headphones in … and if you must make sure you can still hear what's going on around you – especially when you're turning a corner or going past a potential hiding spot.

Get off your phone. Being glued to your phone will distract you and make you an easy target.

Try to walk in well-lit, populated areas. You're less likely to be targeted if people are around and can see what's going on.

Keep your head up while you walk and look around. This will help you be aware of who is around you.

If possible, wear some shoes you can move around in! Fashion is important – obviously – but if you're heading to the library after hours, maybe choose shoes that won't limit your mobility.
We want you to be able to enjoy what Center City has to offer, but we also want you to stay safe. We noticed that noon and 4PM are the highest times for crime in this neighborhood, so even if it's not dark out, make sure you're staying alert where ever you're going.
Crime Rates:
In the average month, 892 crimes are reported in Center City. Here are three to be aware of as a college student.
345 Thefts

94 Assaults

21 unarmed robberies
University City
The name really says it all here. University City is home to multiple universities in Philadelphia. This makes it a hotspot for crime. College students, we love ya, but you're unfortunately easy targets. Since you're typically lugging around thousands of dollars worth of technology and typically are walking to and from class alone, you're more susceptible to theft, assault, and robbery.
Here we saw a spike in crime around 11AM and 2PM – peak class hours. We also noticed crime reports were between 10-18 reports from 4PM-11PM. So, whether you're walking to class or home alone after class, make sure you stay alert. It's always a good idea to have a mental plan for what you'll do if you see anything unsettling.
Crime Rates:
In the average month, 258 crimes are reported in this neighborhood. As a college student you should be aware of these three:
97 thefts

32 assaults

5 unarmed robberies
East Falls
In the average month, 54 crimes are reported in East Falls. As a college student, East Falls might be your stop for pizza, cheese steak or a night out, so you should be aware of these three common crimes in the East Falls area:
12 Thefts

10 Thefts from Vehicles

12 Assaults
Stay aware later in the day in East Falls, 4PM and 7PM are the most popular times for crimes to occur in the neighborhood.
Fairmount/Spring Garden:
In the average month, 99 crimes are reported in this neighborhood of Philly. If you're eyeing up this neighborhood for dinner or as a place to live, make sure you're aware and that you're not leaving anything visible in your car in this neighborhood:
22 Thefts

19 Thefts from vehicle

7 Assaults
Thieves often look for cars that have laptops or other high priced tech items laying in plain sight. Leave your laptop locked in the trunk and always bring your phone with you. In an average month, crime in this area spikes from between 1PM and 2PM  and then again at 8PM.
Chestnut Hill
During an average month in Chestnut Hill, 32 crimes are reported. If you're thinking about moving into this neighborhood or stopping by to visit one of the many museums or parks, you should be aware of these three common offenses:
13 Thefts

4 Thefts from Vehicles

2 Assaults
Chestnut Hill sees a majority of the crime at 11AM and 1PM, which is surprisingly pretty early. So if you're walking to and from class around those times don't rule out the possibility of being targeted, keep your guard up.
Northeast Philadelphia
In the average month, 568 crimes are documented in North East Philly. As a college student, if you're moving to this heavily populated area, you should be aware of these three common crimes you could be a target for:
80 thefts

75 assaults

48 thefts from vehicles
Here, there is a spike in crime at 4PM and then again at 8PM so heads up while walking, – send a text when you make it back to your cozy home safely.
Roxborough
Roxborough has a well-established nightlife and tons of things to do during the day. On average, 103 crimes are reported a month in the area. As a college student, you're likely to be targeted for these three:
14 thefts from vehicle

13 thefts

13 assaults
In Roxborough, there's a huge spike in crime from 2PM to 3PM. So if you're in class, make sure nothing is left behind in your car. If you're on your way home from class, try walking with some friends or in well-populated areas to avoid any potential problems.
West Mount Airy
Another area of Philadelphia that has a vibrant nightlife with tons of things to do is West Mount Airy. In the average month there are 26 crimes reported in this neighborhood, and whether you're planning a move or just enjoying the area, you should be aware of these three common crimes:
6 thefts

4 Assaults

2 thefts from a vehicle
Interestingly, noon is the most popular time for these crimes to take place in West Mount Airy. So head over and enjoy some lunch, but make sure you're taking valuables out of your car and keeping your guard up on your walk.  
It's worth to note that every neighborhood had high reports of fraud. This is a nice reminder to make sure you're being diligent in your off-campus housing hunt to make sure you don't get caught up in a scam. Check out our infographic on how to avoid rental scams.