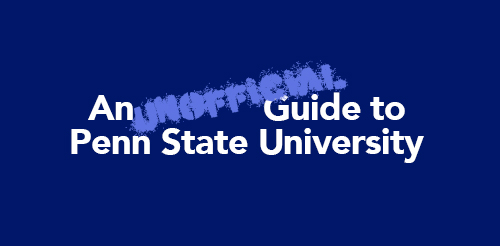 We know every college campus is different. We also know students may have very specific questions when they are researching potential colleges, like where to find the best apartments near Penn State. To help you along the way, we've prepared a guide to Penn State University specifically for students.
We want to focus on what we know matters most to students. We'll tell you what the weather is like, what schools are popular at Penn State and where you can drink or dance the night away.
So here is the Rent College Pads Unofficial Guide to Penn State University:
Weather Situation: The average high during the school year is about 52 degrees Fahrenheit and the average low is about 34 degrees, which should leave you comfortably cool. Your hoody collection should be an impressive one. There's about four inches of precipitation each month too, so be ready for a bit of snow in the winter and rain in the fall and spring.
Scholarships: Penn State's website offers a detailed breakdown of all the scholarships they offer. Just navigate a few boxes and you'll find what potential scholarships best align with you.
Schools:
College of Agricultural Sciences
College of Arts and Architecture
College of Communications
College of Earth and Mineral Sciences
College of Education
College of Engineering
College of Health and Human Development
College of Information Sciences and Technology
College of Nursing
College of the Liberal Arts
Eberly College of Science
Graduate School
Schreyer Honors College
Smeal College of Business
Shoutout to the Smeal College of Business, which immediately sends the mind to a place where its dean is Smeagol from Lord of the Rings. The College of Earth and Mineral Sciences flaunts an impressive Geology program if you're into that sort of thing. I guess you could say it really … rocks. Nailed it.
Greek Life: Moderately disastrous right now.
If recent news is any indicator, it will become less prominent in the future, though it has a moderate presence on campus right now. Kappa Delta Rho has been in the news for a variety of negative stories involving hazing and potential sexual assault over the past few months.
Sororities do not have houses on campus. You can live a very active and full social life without being in a fraternity at Penn State, as the access to downtown State College provides plenty of nightlife opportunities.
Also, the fraternities and sororities at Penn State organize THON, a student-run dance marathon philanthropy effort that has raised millions of dollars for the fight again pediatric cancer.
Street to Know: College Avenue
State College is definitely a college town. BestCollegeReviews.com named it the eighth best college town in the country. According to their data, over half of the town is populated by the students at Penn State.
And where do those students hang out? College Avenue, of course.
College has something for everyone. Zeno's is a popular destination for the older college crowd and folks from State College. Chronic Town has hookah, pinball and a relaxed atmosphere that plays to the indie crowd. If you need a little bit more out of your night, Indigo is a popular club that picks up once football season ends in Spring. Before that, the most popular place in town is Beaver Stadium, where a hundred thousand of your closest friends get together every Saturday.
What Are You Doing on Saturdays?:
Yeah, football is a big deal at Penn State. It's impossible not to have heard about the problems the school's experienced over the past seven years, but there's still an incredible amount of support for the new era of Penn State football. You'll be at the football games or you'll be very lonely. Current coach James Franklin is the first African-American coach in school history. He was 7-6 in his first season.
A Resource for You: OnwardState.com is one of the most well-maitained student blogs in the history of student blogs. They won awards for their coverage of the Sandusky Scandal and should be a mandatory daily read for all Penn State students.
More Questions about Penn State?
The Penn State University Subreddit has thousands of active users and can give you more information if you need it.
Looking for a place to live?
You know we have that covered. Check out our Penn State off-campus housing page.