Chances are, if you're an upperclassman at IU, you're looking for a place for next year that is quiet, easy to get to, close enough to campus to make travelling to class easy, and reasonably priced. This combination isn't always easy to find. Don't worry though, it is not impossible. We've built a list for you of places to consider looking at. Most likely, one of them will fit your eye.
The Gateway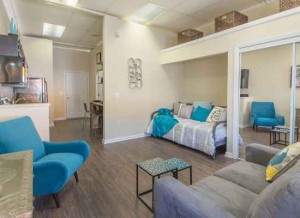 Managed by popular Bloomington Property Management company, 10th and College Management, The Gateway is a new luxury style apartment building that offers students anything from studio to three bedroom apartments. The Gateway is actually two separate buildings, which are to be connected via skybridge! There will be retail space and restaurants on the first level, with levels two and three housing the collegiate apartments. Amenities are plentiful at this new location. You've probably noticed it going up, it's right off 17th Street and College Avenue, overlooking Miller Showers Park. Overall, The Gateway is awesome.
Walnut Place II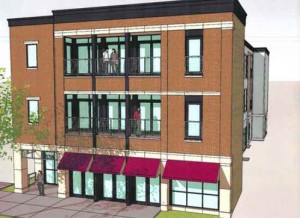 Geared towards graduate students at Indiana University, Walnut Place II is managed by OMEGA Properties. The team at OMEGA have been leasing in Bloomington since 1985. This is a great new building, on the south side of campus, right by the Chocolate Moose. Apartments are to include hardwood floors, high-end stainless steel appliances, and spacious floor plans. Walnut Place II is only two blocks from Kirkwood Avenue, but still is far enough away to provide a quiet location for students to get work done in.
Bloom and Millennium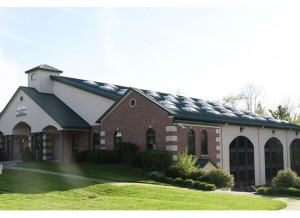 These two sister properties aren't quite as close to campus as some others, but they offer an unbelievable combination of amenities. Between the two of them, there is an incredibly awesome indoor pool area, a great dog park, walking and hiking trails, every internal apartment amenity you can dream of, and a lot more. For an upperclassman that doesn't mind driving five minutes to get to campus, these two properties are what dreams are made of.
The Village at Muller Park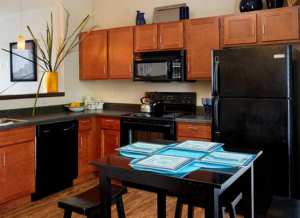 Do you not have a vehicle on campus? The Village at Miller Park is for you. The Village at Muller Park offers a shuttle service for their tenants to campus. Whether you do or you don't have a car, this apartment complex is great for upperclassmen. Their clubhouse offers a wide array of games and common areas, as well as a phenomenal outdoor pool. Located just a few minutes west of town, these places are great for grad students. It's quiet, offers the amenities that students and young professionals thrive on, and offers more than reasonable pricing.
Henderson Crossing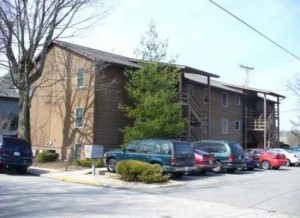 Henderson Crossing offers probably the most central location on this list. This is a much smaller apartment building, which is managed by TEMPO Properties. Located one block southwest of campus, everything is walkable in a matter of minutes. Henderson Crossing has everything that you'll need to succeed, and offers seasonal discounts to grad students. It's a quiet place to live, but still close enough to everything to make travelling throughout campus easy. Check out everything that Henderson Crossing has to offer.
There are many more places throughout campus that offer great places to live for older students. However, this ought to get you started. Reach out to us if you need any help finding IU apartments.